Welcome back to TV Fanatic's Grey's Anatomy Round Table!
Last week's Grey's Anatomy review broke down "Things We Said Today" in great detail. Now, TV Fanatic staff members Sean McKenna, Christina Tran and Courtney Morrison, along with special guest Lisa and Liv from Grey's Gabble, have assembled for a Q&A discussion of many of the episode's events.
Read their answers below and weigh in with yours!
----------------------------------------
1. What was your favorite scene or quote from this episode?
Courtney: I loved the exchange between Ben and Bailey, but my favorite was Meredith with Webber. She was able to tell by his face and it was so emotional. Kudos to James Pickens Jr. You ruled this episode.

Lisa and Liv: When Arizona tells Callie not to run - the emotion and the fear solidifies their commitment to each other! Arizona is realistic in her process! Jessica Capshaw and Sara Ramirez keep growing and making us love Calzona more if that's possible!
Christina: So, I've been in super wedding planning mode so my favorite scenes actually were all during the wedding. I was completely focused on the centerpieces, amazing lights everywhere and the flowers that surrounded our favorite doctors.
Sean: Bailey and Ben coming to an understanding with each other. It's great that everything worked out and wasn't blown out of proportion for them. They're in it to win it, and I see them going the distance after all of this.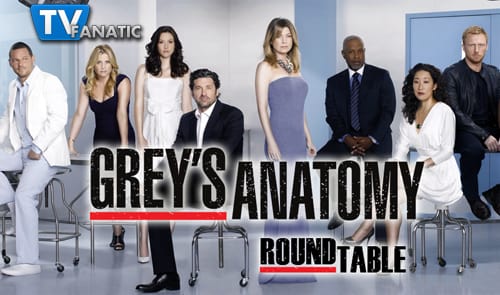 2. Ben and Bailey got married. Good or bad move?
Courtney: Great move! Bailey deserves to be happy and Ben really seems to understand her. Although, I do think that Ben will only take so many things before he stands up and makes it an issue.
Lisa and Liv: It's great; when Bailey and Ben jump over the broom! They are in it to win it! All the faith!
Christina: It's definitely the right move. He gets her. She needs him. They're just right for each other.
Sean: I think it was a good move. There's been some misunderstandings sure, but through it all, these two work well together. Hopefully, it's smooth sailing for them both.
3. Jo and Alex looked pretty comfortable together. Should the writers go there with these two?
Courtney: Absolutely. They have been building it up as friends and co-workers first. It feels natural and Alex needs a real relationship, it is about time.
Lisa and Liv: We are on the fence with Jo and Alex. He has, in the past, thrived with crazy ... but it appears as Jo is a bit darker a tad bit more broken! Not sure how we feel very protective of the A in MAGIC!
Christina: Yes, I am definitely on board with getting these two together. They are fun to watch, and it's about time Alex change his relationship status.
Sean: Sorry, but their relationship, as much as they seem to be getting closer together has felt all too forced for me. I think Alex deserves to find someone, but not with Jo. Maybe with 666 Park Avenue done, Rachael Taylor might reprise her role as Dr. Lucy Fields? I found their relationship far more interesting, but that's just me.
4. Owen and Cristina are no longer married. What's next for them?

Courtney: The two will continue to hook up, it's in their nature. Being married added an extra pressure to them, now they can just have fun.
Lisa and Liv: Owen and Cris are one entity! We have held on through this process! There is no other alternative except for them to be together! They have gone through it back and forth. It's beyond hooking up ... they are one! Maybe Mer-Der will let them have a post it note! Because there isn't any other way then Cris and Owen to make it work! Besides the chemistry that those two have couldn't be replicated! Crowen forever!!
Christina: Hopefully, they're over for good. I'm tired of the back and forth with these two.
Sean: They are going to hook up. A lot. No strings attached. Which will work for the time being, but their track record will probably send them back into trouble. We can hope it works out, right?
5. Adele Webber passed away. Say your goodbyes to the most beloved non-doctor character this series has seen.
Courtney: Adele - You brought drama, emotion, and heartbreak over the past nine seasons. Whether you were fighting with Richard or being his support system, you were always fierce. You will seriously be missed and never forgotten. 
Lisa and Liv: Adele: Our funny valentine. You taught us unconditional love - no one can handle Chief Webber like you have! The loss can never be recovered from but may you rest! Enjoy George, Mark and Lexie! Godspeed sweet amazing Adele and to Loretta, thank you for telling us Adele's story you beautiful soul!!
Christina: Adele, you will always be Richard's "funny valentine" and won't soon be forgotten.
Sean: Adele, you were Richard's one true love. As sad as it is to see you go, like many of the Grey's Anatomy cast that has come and gone, you'll always be remembered.
What do you all think of this week's Grey's Anatomy? Share your responses in the comments!