Welcome back, Grey's Anatomy fan! After an entirely too long hiatus, the docs from Seattle returned with "Things We Said Today," an episode that brought it all:tears, fear, smiles, and laughter.
Let's discuss now that I have wiped my eyes enough to see...
Happily Ever After...or For Five Minute Increments. The hour picked up right where "Run, Baby, Run" left off. Bailey went to the hospital instead of her wedding to operate on Adele. Would Ben understand being left at the alter? Of course he would, because he is pretty awesome. The wedding is put on hold until Bailey finishes surgery.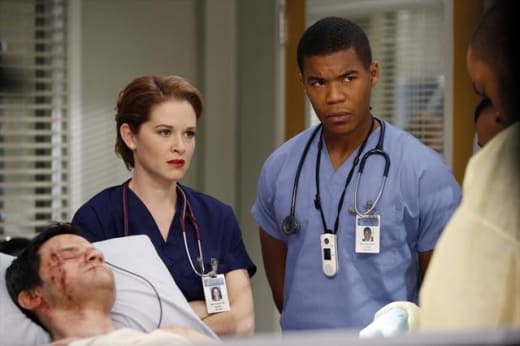 Can we acknowledge for a minute the heartfelt conversation between these two? They understand and are there for each other and there is nothing us loyal viewers want more than Bailey to be happy. The two shared a beautiful wedding and Chandra Wilson has never looked more gorgeous.
Fake Crying = Hilarious. Jo and Alex bonded over their terrible childhoods and even found a way to have fun with each other. These two practice their crying skills and get silly drunk. It is about time we saw Alex laugh again. It has been entirely too long. These two have the build up for what could be an incredible couple. Let's hope the writers go there and in a very real way. Karev deserves it.
Not Ready...Arizona and Callie have been off beat since the plane crash - and for a good reason. Arizona's life has completely changed and she has earned the right to be insecure. Looks like there is no reason to worry. By the end of the hour, this pair was back on solid ground. Thankfully.
Signed, Sealed and Delivered. The divorce papers made their way into the hands of Owen and Cristina. Should they divorce? Should they have ever been married in the first place? Who really knows the answer anymore. These two have been an adventure to watch from the get go. But the writing has been on the wall for quite some time. They box each other in with their marriage.
Without that binding, they seem to do okay. With some tears from both Owen and Yang, (yes, I said Yang!), the papers are signed and their marriage is over. Here come the waterworks.
A Major Loss. We knew it was coming. It had to be sometime soon. That didn't mean we wanted it. Adele survived Bailey and Mer's surgery to be able to wake up and be lucid enough to remember her best friend, her husband. The two shared a sweet moment where he promised not to leave her. Not long after, Webber showed up at Bailey's wedding. Nothing needed to be uttered. His face said it all and that is when the tears start flowing.
The loss of Adele Webber is huge. Loretta Devine has been playing this role to perfection from the start of the series and she will seriously be missed.  
Side Notes:
The weekly case was a lot of fun. Some of those injuries were nasty but paid off watching Stewart get brought into the club. 
Jackson and Stephanie hooked up! I'm not jealous of her or anything...
What will that do to his situation with April?
Derek is recovering from surgery.
Not sure which relationship I love more...Webber and Bailey or Webber and Mer.
Only Shonda can make you be so happy and smile and then be in tears within seconds. The episode was up to par of early seasons of the series. The entire Grey's Anatomy cast was awesome and the writing was exactly what we expect from this show.
What did you think of "Things We Said Today?" Are you happy Bailey married Ben? How sad is the loss of Adele? Sound off below and let us know. Check out some sweet lines on the Grey's Anatomy quotes page and don't forget to check out the Grey's Anatomy Round Table later in the week.
Until next time, Grey's fans.