Jim's Notebook: Open to The Following, Smash and More!
Jim Halterman at .
My notebook is busting at the seams this week because I've been busy covering the Television Critics Association Winter Press Tour.
As the broadcast networks panels kicked off, I got some great intel on Smash, The Following, Justified and White Collar creator Jeff Eastin's next addictive series, Graceland...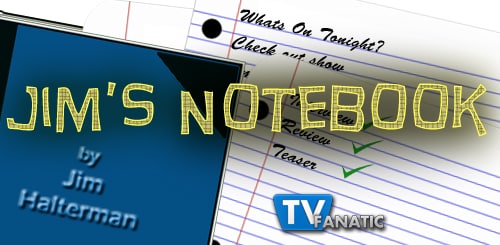 THE FOLLOWING A lot of the talk at TCAs about the new Fox series was the violence in the show, but this project is also an evolution for creator Kevin Williamson, who has personally changed a lot since the days he created Dawson's Creek and The Vampire Diaries. Of The Following, the writer explained:
"This is a project that has been percolating in my head for many, many years in some form or another. The Vampire Diaries... there's a supernatural element to it. It's gothic romanticism hinged in sort of a vampire/werewolf landscape, with witches and stuff and it was more of a Dark Shadows. And [The Following] takes place in today, in the eastern seaboard. And also the characters are older and I've got several generations of characters that I get to play with. I get my young characters but I also get to write adults, you know? I'm not a child anymore."
SMASH We're seeing a lot of her in the ads, but how just how much is Jennifer Hudson appearing in Smash Season 2?
"She's in three out of the first four episodes," said new showrunner Josh Safran at the TCA panel. "She came to the show because of Bob [Greenblatt, NBC head], which was awesome."
Of how they decided to fold Hudson into the series, Safran explained in terms of the big stars of Broadway that "the idea of showing for Karen and Ivy sort of a symbol of who [they] want it to be, and when Bob suggested Jennifer, it was just absolutely perfect, and it's been great to have her. I think she's really amazing. She sings a lot. She acts a lot. She dances a lot, and everyone got to work with her, and she's just an amazing talent."
JUSTIFIED While I'm not happy we won't be getting any awesome scenes between Raylan (Timothy Olyphant) and Boyd (Walton Goggins) for the first handful of Justified Season 4 episodes, Goggins explained that something new does happen when their paths cross. "There's one line that Boyd's never said in the previous three seasons that he says this season. It's really interesting to me and an indication as to where they've kind of come in this relationship, and Boyd looks at Raylan at one point, and he says, 'Raylan, I don't like you.' And it's the first time he's ever really kind of said it that way."
Goggins (currently on the big screen in both Lincoln and Django Unchained) added: "Boyd has seen their friendship as one thing and Raylan has seen it as something else but at the end of this season, they may see it the same way and that is that they don't like each other. We'll see where it goes from there." (NOTE: Goggins talked more about Boyd's story this season during our one-on-one exclusive, which you'll be seeing early next week.)
GRACELAND We have to wait until summer for Jeff Eastin's latest crime series, but how Elvis-connected is the title?
"The working title was just Safe House," Eastin said, "which I thought was a little dull... Daniel [Sunjata, who stars, has] got a pretty good speech about it in the pilot where he says, 'within these walls, there's safety.' And just from that idea came the idea of kind of a sanctuary, and Graceland just kind of flowed out of that."
He added that the feds would seize houses from criminals and "in one particular case, they seized the house from a guy who was an Elvis fan."
I'll just add that having seen the Graceland pilot, the show is as engrossing as White Collar but very different. It also helps that stars Sunjata and Aaron Tveit are terrific, as is the entire supporting cast. Just a bummer we have to wait for summer!!
That's a wrap for this week! Anything else you're dying to know about your favorite show? Leave a comment here or you email me directly at jim@jimhalterman.com. And remember: follow @TVFanatic for all your TV scoop!
Jim Halterman is the West Coast Editor of TV Fanatic and the owner of JimHalterman.com. Follow him on Twitter.