Neal got into the "Family Business" on the White Collar winter premiere, aiming cozy up to the son of the man responsible for framing his father.
But before we even get to that, let's reflect on just how Neal took the news that his father had been right under his nose the whole time.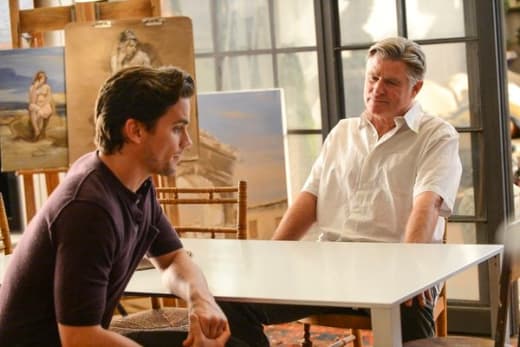 For some reason, I expected a much bigger reaction out of him. Then again, Neal's always been one to keep it cool. The interrogation was almost immediate, and the answers were quick to follow as well.
So now we know the story of how Neal's father became a wanted man. It's amazing how something like a stolen loaf of bread can change so many lives. If Sam - James? - is to be believed, he's 100% innocent man and there's a larger plot to uncover. The path has been laid, and the second half of White Collar Season 4 will no doubt see Neal, Peter, Mozzie and the gang in hot pursuit of Ellen's evidence box and the people responsible for framing his father.
What is it with White Collar and boxes? There's always some big mystery inside them, the most recent being the music box from White Collar Season 2.
While you ponder that, let's get back to the most important pieces of this hour, like how lucky it was that Neal got to take a shot at the offspring of the party responsible for the breakup of his family. The fact it involved expensive whiskey was a plus, though decidedly a step down from their traditional indulgence in fine wines to some degree. I have to admit, I didn't hate it. There's some particularly attractive about watching Neal actively commit a crime with Mozzie in tow and under the watchful supervision of his FBI cohorts.
If only Dennis Flynn Jr. had lived long enough to reveal any information that could have helped Neal and Peter get to Ellen's evidence sooner. At least we can definitely say that he possessed the gun responsible for Ellen's murder. Surely there will be more to come in the future. Or so we hope.
My favorite part of this episode, however, was no doubt the dynamic between Neal, Peter and James. I've always contended that Peter has in many ways acted as a father figure throughout the course of their relationship. I've also speculated in the past that Peter would find that status challenged in with the revelation that Neal's father was, in fact, alive and well. I also wondered what impact that would have on his relationship with Neal.
Unsurprisingly, the only significant change was for the better. Peter encouraged Neal to develop a relationship with James almost against Neal's wishes, and carefully stood behind him every step of the way. That's the beauty of their relationship. There's mutual trust, respect and support, though whether they agree with what level of support they're given or not is always up for debate.
Other highlights from this episode:
Neal and Mozzie drunk.
Elizabeth, though not surprisingly, delivering a convincing and op-saving performance at the party.
Neal telling James that he wants him in his life.
So, do you think we'll see James again soon? Or is he gone for good?
C. Charles is a TV Fanatic Staff Writer. Follow her on Twitter.