"Tough Love" gave us two things:
An overabundance of screen time for the incredibly-difficult-to-warm up-to Heather.
The wonderful, intensely beautiful moment we've all been waiting for: THE KISS.
I'm going to guess that I wasn't the only Beastie bemoaning the hour, wondering why we were being punished with the dual bitchichiness of a Heather/Tess tag-team.
The writers must have known that the only way they would be able to redeem themselves after so much negativity was to finally give the viewers what we wanted. Before we get there, let's check out what drove the rest of the episode.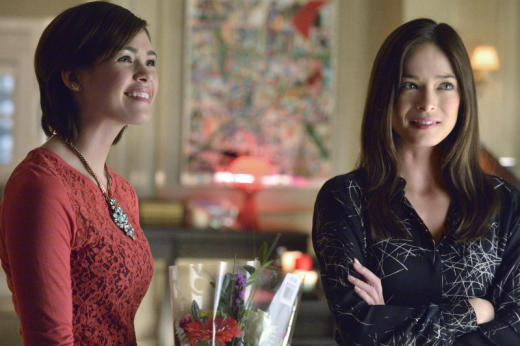 Heather was being a verifiable nutcase when it came to Vincent. Starting the evening they planned to gently introduce him into the fold and showing up in a cocktail skirt was rude. If you set the dress code, don't break it. Another note of warning might be to keep to the original guest list. She knew how concerned Cat was about her meeting Vincent, but she invited Darius, who neither Cat nor Vincent knew, to eat with them. Not an endearing quality.
Gosh, it was so uncomfortable watching Vincent trying to be normal, interacting with Darius about being a doctor and feigning interest his nightclub. It was obvious right away that Darius was a player. Warning signs were going off, and when he got his mysterious text message it told Vincent that he was anything but calm. To think... Heather didn't trust Vincent.
When Cat was given the third degree by Heather and Tess, why didn't she just say Vincent was in witness protection? Even the police don't have access to that information unless the party in question decides to tell them. I watched In Plain Sight; I know these things. That was just one more scene that tore the people Cat trusts most further away from her. The worst thing? Her chance to use a great lie like witness protection is gone. Everything that came after has ruined, for the very long term, her chance to bring Vincent into her world.

So, Darius had a short life span. Why did they have to knock Heather out? Vincent killed Darius as Darius sought to save his own ass. Do I think he would have pulled the trigger? Yes. Vincent has a built in lie detector that can read blood pressure and pulse rate and all that jazz. If he didn't feel she was really in jeopardy, he wouldn't have done what he did.
But Vincent's beast was just a little stronger than he realized. He didn't mean to kill Darius, only to knock him out of the way. Nobody will know Darius was ready to shoot Heather except Vincent, and he won't be able to convince anyone otherwise.

The events sure seemed to seal the fate of Cat and Tess, especially since Tess has more loyalty to Joe than she does to Cat. It's a real shame that she can't see how similar their situations are. Why she trusts Joe so implicitly while bring a world of hurt on Cat makes no sense to me, but they always seem to make all sorts of sense to the people who are inside of them.
Cat and Vincent are fighting on one side and Tess will be fighting with Joe to take down whoever - or whatever - killed his brother. I have this sinking feeling that the search for the two goons who were really responsible will be forgotten and, with the help of Evan, the search will be increased for the beast.
I loved that Even went to Cat before he made his choice on whether to work with Muirfield. Cat's attention was pulled away by Heather's shenanigans, and that's another moment Cat will never get back. I would love to think that Evan will eventually come to his senses and see the truth about Muirfield, as well as what the close proximity of the beast to Catherine means.
It's easy to follow Evan's logic that he's out to harm her in some way and I can't help but wish his communications with J.T. had been much deeper. That connection would have provided so much insight into the world of the beast for Evan, but that's just one more ship that sailed away this week.
I'm really disappointed in the direction things have taken with Evan, but they have written him into a corner. He'll have no idea the harm he's doing until Cat is left half dead and Vincent isn't there to protect her because Evan has captured him.
For a minute there, it seemed our epic romance was, once again, on hold. Imagine my surprise when Cat carried on with this lovely Beauty and the Beast quote:
Cat: Crazy stuff happens. And, all I want to do is share it with you, figure it out with you. My normal is when I'm with you. I love you. I don't need walls, or doors....
[kiss]
Vincent: I am so in love with you. | permalink
Finally. We got it. The kiss. Followed by a much deeper, soulful, lingering kiss that rolled right into the credits.
The ride just got much rougher for our romantic duo, but Cat is steadfast in her determination to stand by his side. Despite Vincent's weaknesses and low expectations of her longevity, she's not letting him down. What the future holds remains to be seen, but all indications point to a long-term, rocky (and sexy) road.
Carissa Pavlica is the managing editor and a staff writer for TV Fanatic. Follow her on Twitter.