Californication Review: Pizza, Cocaine and Apple Juice

Chris O'Hara at .
After last week's episode, it seemed like Californication Season 6 had been cleared for takeoff.
But "In the Clouds" never really got off the ground, as Charlie and Hank boarded Atticus's place destined for New York City. Alanna Ubach did make the ride less bumpy with some off the wall antics. 
Before leaving to catch his ride on Air Atticus, Hank sat down with Becca to try to talk some sense into her. Becca thwarted her father's intervention of sorts by proving to him she is staying busy in her pursuit to become not only book smart... but full of carnal knowledge. Despite making Hank's stomach turn, all she had to do was give his ego the smallest of strokes and he allowed her to take over Charlie's house while they were away.
It should be interesting to see what the state of things are when Hank and Charlie return. Hopefully it will be entertaining because so far this season I am not really feeling Becca's role at all. Charlie did deliver the Californication quote of the night, though, while offering his home to her.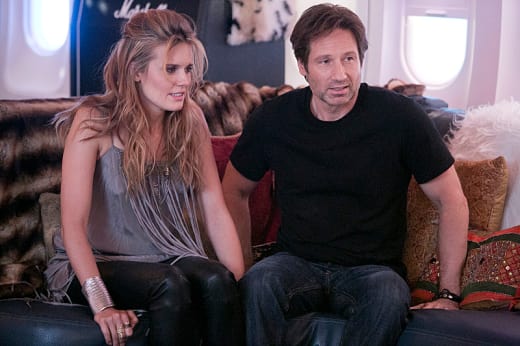 To embrace his new role as a rock manager, Charlie emerged ready for takeoff complete with eye liner. He may have had more luck convincing his boss he was gay had he donned that last Sunday. Either way, it was a good effort by Runkle. I would have thought the flying phobia may have checked his libido at the gate, but Trudy had no trouble making his manhood take flight. 
Alanna Ubach had me laughing the moment she stepped onto the plane with her new BFF Faith. Toting her minibar bottles of Jack Daniels and wielding that gritty accent, she hilariously reminded Hank of their "run in" at the funeral before going to look for man snakes on the plane. 
While many airlines are cutting meals and snacks to save money, Atticus offered pizza, cocaine and apple juice to his passengers, but fell short on serving up laughs. I kept thinking we were going to see him flip the switch and show why he is supposedly this huge star, but he lost me at "Tiny Dancer," even with Hank and Faith calling him out for the Cameron Crowe rip off. 
Amid the turbulence, Hank moved on to the second stage of Faith's approval matrix.  Hopefully we will get to see Faith continue to work her magic next week, inspiring Hank to greatness. Something I am desperate to see. How about you?