There were some pretty weighty issues tackled in "Human/Need/Desire" and it made for a swift 60 minutes.
For an hour that focused around the Valentine's Day holiday, the one mildly romantic moment came when Emmet told Bay she was the only person on the planet who could have pulled off the goofy cupid outfit she was wearing to collect money for the drama club. I admit it, he made my heart pitter patter. Geez, I've missed Emmett.
Too bad that was about all the romance we saw, as we moved into much deeper topics.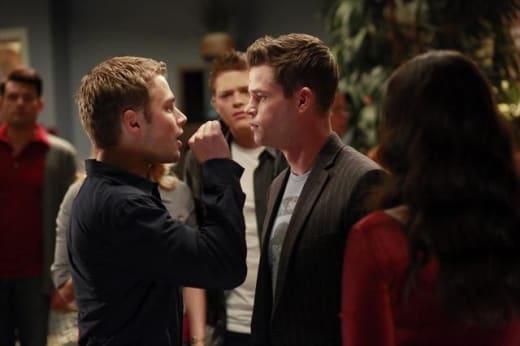 Something that I really like about Switched at Birth is that the adults are as full of problems as the children. It's a great character study about growing older versus growing up and how different the processes really are. I think when you're young, you tend to think that age make you something, and I don't know exactly what that might be - smarter, dorkier, more wise, wealthier, less fit - but each older character has as many ups and downs as the younger ones and I hope that helps all generations get a better feel for the other.
For example, it struck me that Angelo is going through something with an unintended pregnancy that one of the teens could very well be going through at the exact same time. Age has nothing to do with it. The stakes are the same. The mistakes are the same, and the repercussions have to be dealt with whether you're 16 or 40. 
I didn't even realize that Angelo was struggling to tell Lana that he wanted to raise their daughter on his own. Instead I was thinking more along the line that he was expecting her to change her mind about having the baby and raising it. It's a bold move to want to raise a child on your own, especially after facing so many challenges in life thus far. If he does end up raising his baby daughter, what will it mean to his marriage to Regina and the immigration deal they have going on? I'm proud of him for wanting to do it, but we'll see if it pans out.
Then there are the times when all the adults fight about the kids. John and Kathryn reacted very poorly to the Daphne situation, as was expected, and the way they treated Regina was just awful. But, wow, did Adriana have the right thing to say at the right time. Who was thinking about Daphne? They were all so busy being indignant and placing blame that nobody was really thinking about what it must have been like to have been in that truck and to be dealing with the aftermath.
Instead of this week being about Daphne and what happened, it was more about John, Kathryn and Regina learning some more about each other and their ability to co-parent. John's desire to rule the roost was squashed by the chicks when they put the kibosh on his selling of Daphne's food truck, only to turn around and agree it should go just moments after he bought it back. At least the women won!
Another big issue that was tackled during the episode was the idea that being deaf gave you, according to Melody, a richer, deeper life. Frankly, I found that offensive. While I understand that people who have to deal with different circumstances than the majority put a positive spin on their lives, does it make it any better to make the "other side" a target? The assumptions made about hearing people made the deaf seem as shallow as those they spent a lifetime fighting against. I'd like to think that life is what we, as individuals, make of it.
That's not what I was taking away from the lecture.
It turned out the hearing kids didn't take much away from all of her pro-deaf arguments, either, because Noah, who's going deaf himself, and Travis actually came to blows over the volume of music at Bay's Anti-Valentine's Day party. Noah is going to have to share his secret with everyone eventually, especially when his hearing "goes" more often than it sticks around.
Other thoughts:
Bay got kissed on Valentine's Day, and it wasn't a kiss from Emmett!
Did I mention how much I missed Emmett?
Do you think Daphne is really dating Travis just to prove she can date a deaf guy?
There were no aftereffects to Regina's drinking. I expected some. Did you?
Why did Nikki tell Toby she loved him if she was already wavering on his not being into the whole God thing?
I like Natalie more every week. We learned she's gay. Who could she date? Hmmmmm....
It was so funny when Toby asked Bay if she had kissed Zara since she gave off that "vibe."
That's all I've got for this week. Share your thoughts in the comments and meet back here next week for more Switched at Birth Season 2!
Carissa Pavlica is the managing editor and a staff writer and critic for TV Fanatic. She's a member of the Critic's Choice Association, enjoys mentoring writers, conversing with cats, and passionately discussing the nuances of television and film with anyone who will listen. Follow her on Twitter and email her here at TV Fanatic.