"From the Ashes" will arise an entirely new Army Wives.
I read your comments, and I know how that makes many of you feel. I'll tackle my thoughts about the regeneration of the cast and the series in this review, as well as the episode itself. Rebuilding a foundation can be tricky business, but it appears the pros at Lifetime gave the creators of Army Wives just the right amount of leeway to get it right.
Did you wonder, like I did, where the tears were in the Army Wives Season 7 premiere? Found 'em! They were at the celebration of Claudia Joy's life. As each friend took turns reading the letter she wrote the night before her kidney surgery (just in case) each, in turn, broke down into sobs. Me, right along side them.
Finally, the tribute I was awaiting. It was a worthy send off not only for Claudia Joy, but for disintegration of the friendship of the core characters from the first six seasons of Army Wives.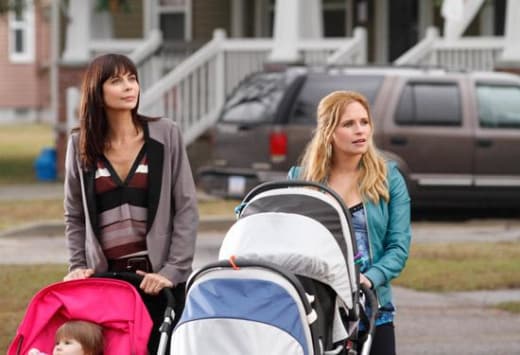 Let's make no mistake. Army Wives Season 7 is unlikely to be like any other we have watched. Pamela moved away from Fort Marshall after Season 5 and Roxy and Trevor made their move at the end of Season 6. Although Claudia Joy was missing for much of that season, she's gone for good now.
We lost another friend tonight, as Roland announced to Denise he would be moving, temporarily, to take a job at Johns Hopkins. We all know how temporary works on Army Wives. When he finally spoke about it with Joan, he was talking about their future, not their present. Her hesitation was apparent, but she's been thinking about their life after her enlisted career for some time and encouraged him to pursue the opportunity.
Brian McNamara knocked it out of the park with Michael's grief, especially his sobbing as he tried to deal with the loss of his wife. He mentioned some of the things that I did in my review of the premiere, "Ashes to Ashes," that she never got her chance. She put her life on hold for him, and now it was too late.
I loved that Michael talked about Claudia Joy being his life for 30 years, but needing to move forward. Emmalin almost stayed home from college, but Michael knew it was the wrong thing for both of them. They had some extremely touching and very real scenes to play out their new beginning.
Oddly enough, in the span of about five minutes we met virtually every other new character coming onto the show this season. Ashanti as Latasha, lives in Roxy's old house. Elle McLemore as Holly a wife experiencing her husband's deployment for the first time wants to sell pies to Gloria at the Hump Bar and Torrey DeVitto stepped in as a formerly enlisted new wife and mom of a blended family, Maggie.
That left only two new characters left to arrive. First, Brooke Shields as Col. Kat Young to appear, and I figured it might take a little while as I fully expect her to be a new love interest for Michael. That soon? In my mind, indeed. Finally, Brant Daugherty as Patrick Clarke, son of Jackie and Kevin, and a recent graduate of West Point. They're building up the Clark family and I cannot wait. Considering the love/hate relationship I had with Jackie when she first arrived, I can't believe how excited I am for an expanded storyline for her character.
Together with these newbies and last year's recruits, Gloria (Alyssa Diaz) and Hector (Joseph Julian Soria), it's from this group that our new beginning will be born.
Roxy got into a bar fight with the new faces; sort of a going away present bringing them all together. The friendships on Army Wives always start in dramatic ways. Our original group started with Pamela going into labor, and this group found each other in a bar fight. Either way, you just know they'll have each others backs for a long time to come.
This early in the game, I'm most intrigued by Maggie and her unique circumstances and fierce attitude. I look forward to what kind stories she'll have as a formerly enlisted woman turned wife. She should be a strong presence, but I wouldn't rule out Latasha or what we might get when we meet Kat, either.
Instead of choosing a group of unknown actors and actresses to buttress the fort that is Army Wives, they've chosen from a proven pool of talent. Ashanti brings with her an audience from her singing career and a handful of successful movie roles, Torrey DeVitto has starred in The Vampire Diaries, and Pretty Little Liars, Brant Daugherty has starred in Pretty Little Liars and Days of Our Lives and the career of Brooke Shields speaks for itself. My point is, they are bringing with them a ready made fan base.
Don't count out the success of this show, don't delete it from your DVR and don't turn the channel. These actors have talent and if the writing staff can give them material much like that we experienced from the start, you will not be disappointed.
Think about the end of the episode. It ended with one of my favorite scenes from Season 6, from the episode "Fatal Reaction." In the scene, Claudia Joy was looking for reassurance from Denise that they had made the right decisions in life, that they hadn't given up too much to be the wives they were. I quoted part of it during the original episode, but never thought then they wouldn't be there for each other for as long as the show aired. Lesson learned.
Denise: When I married Frank, I chose a course for better or worse, and I've been through both. But either way, up or down, it's been my choice. I'm an Army wife, and I'm proud of it. | permalink
Carissa Pavlica is the managing editor and a staff writer and critic for TV Fanatic. She's a member of the Critic's Choice Association, enjoys mentoring writers, conversing with cats, and passionately discussing the nuances of television and film with anyone who will listen. Follow her on Twitter and email her here at TV Fanatic.