"Blowback" was the Army Wives episode where the old guard started to merge with the new, and it all came together pretty well.
There were two separate incidents that were created as catalysts, one minor and one rather major, although given the early stages of the relationships that were being cultivated, I didn't feel any concern for the people we were getting to know. They, however, felt differently.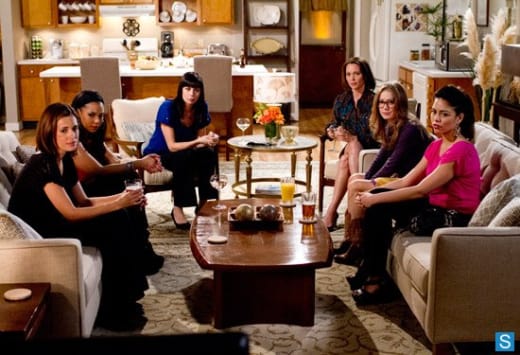 We learned a bit more about each of our new wives and their husbands. Maggie is having a very hard time being a stay at motel mom and there is no way you can blame her for her feelings. I don't think her husband, Eddie, gets the full picture of claustrophobia she must be experiencing being stuck in one room with several kids, even if they are at school for most of the day. She really has nowhere to get away.
When she did have somewhere to go - to Denise's for a school project with her son - Eddie was quite demeaning toward her, as if he expected she would somehow make him look bad. I didn't like it. The only time they seem to get along is when they're having sex. Hopefully, we'll see a bit more to their relationship as time goes on. They met while on tour in Iraq.
Latasha's son needed something to take to school for a show and tell about his dad, Corporal Montclair and she gave him an MRE. It was that MRE that got her son, Maggie's son and David (Joan's son, staying with Denise while Roland is off looking for housing) made into a bomb. They didn't get suspended or expelled, but were required to do a class project together. Latasha and Quincy met at a frat party in college. They seem to be a happy couple.
Finally, Holly talked about meeting Tim. He was the high school mascot and was afraid to talk to her even though she had a crush on her. Since she's only 18 with her entire life ahead of her, their marriage could go either way. They seem madly in love like all teenagers do, and it will be when they are living together in a small space like Maggie and Eddie that they'll be truly tested.
Kevin, now walking pretty well with a cane, went back to Afghanistan. And it was on his first day back, after we met all of the husbands noted above and he touched base with Frank and Joan, that the bomb hit. This wasn't one to burn a teacher's eyes, however, and it brought all the women together back at Fort Marshall for strength as they watched the news and waited for real information to come via Michael.
It was really a great way to get them all together and get past the mam stage and for the new characters to start feeling comfortable mingling with the wives of officers. There is no other way for the show to work unless they become friends. Maggie finally got housing at the end of the episode, right next to Latasha. They're going to be the new Roxie and Pamela. Count on it.
Unfortunately, there was a lot more setup than substance to the episode.
Other thoughts:
Brian McNamara was absolutely wonderful as Michael again this week as he struggles to deal with the loss of Claudia Joy. The emotion he shows on his face can be crushing. I'm loving the telephone calls between he and Emmalin and I hope they keep that up.
It was good to see the men and women back in action in Afghanistan. I don't want to forget their very difficult jobs.
Joan was being sent home. Her commission ended early. I guess the Burton's are going to get a quicker sendoff than I realized. More sadness to come.
Gloria got an email from Hector, and she seems confused about her feelings for him; even more so after the bomb scare. But we haven't heard about his baby mama yet this season. That would be enough to sober someone up and rethink returning gooey feelings.
This episode was really necessary to get everyone fully introduced, and I'd expect we'll soon see Maggie, Latasha and Holly joining the FRG and being more fully integrated with Denise and Jackie. Their common bond will be Gloria, because she already had the opportunity to get close to Jackie and Denise. The good news is there's not a bad character in the bunch. Even with my hesitation about Eddie, I have a feeling the story he has about his first wife will curtail it.
How are you feeling now that you have a better view of the new ladies? Are you excited to see where the season takes us? We still have the introduction of Brooke Shields as Kat and Brant Daugherty as Jackie's son, Patrick on the horizon. So far, Army Wives Season 7 feels far more cohesive than it felt at the same time last year. My hopes? High.
Carissa Pavlica is the managing editor and a staff writer and critic for TV Fanatic. She's a member of the Critic's Choice Association, enjoys mentoring writers, conversing with cats, and passionately discussing the nuances of television and film with anyone who will listen. Follow her on Twitter and email her here at TV Fanatic.