Dr. Megan Hunt has always been a complicated woman, but in "Eye for an Eye" we found out a little more about how she ended up that way. 
When Joan decided to sell the family home, Megan was once again forced to face her father's suicide. The funny thing was, it appeared that Joan was the one who had kept her daughter from ever looking at it too closely. In order to protect Megan, she banished all of her father's belongings and even hid his suicide letter from authorities.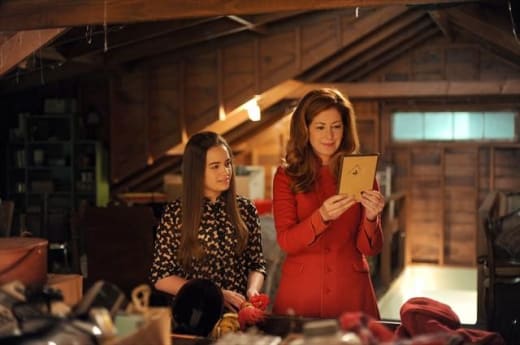 The problem was, there's no way to protect someone from grief and all that goes with it. 
Where Joan was obviously still quite angry with her late husband, to the point of calling him a coward for leaving them, Megan was unendingly curious. Something Joan was quick to write off as a daughter's unwillingness to see her father's flaws as she told Megan in this Body of Proof quote…
Joan: I think you should stop living under the assumption that there's an answer to every question. | permalink
But that's who Megan is. She's a scientist. She's not satisfied until she finds the answer and there were things about her father's suicide that didn't make sense. 
That suicide note was certainly one of them. It was very strange and impersonal. Now that she has the means to obtain some answers I don't blame her for trying to find them. If she's wrong, Megan can finally let her father rest in peace but if she's right…there could be a 40-year old murder to solve.
I liked that she trusted Tommy enough to ask him for help and knew him well enough to be assured that he'd bend the rules to do it.  
Considering Tommy's run through of the different rooms they'd christened in her old home back in the day, it seemed these two had quite a history. I hope we get more details of their hot and heavy romance in the near future.
I loved that Megan sought help from a therapist. It's been a long time coming, but I hated that he turned out to be our murderer…for her sake. Megan could use someone to help her work through the grief and anger that's boiled just under the surface for so many years.
That said, Henry Ian Cusick did an amazing job in the role of Trent Marsh. I was in turns impressed, sympathetic and completely creeped out by the therapist/grieving husband/diabolical murderer. I can only hope he will return later in the season. I'd love to see more of him and this twisted, complex story.
This was easily one of the best episodes of the series, giving us insight into Megan's psyche while entertaining us with one of the most wickedly engrossing murder mysterious on TV.  I look forward to more Body of Proof season 3. 
C. Orlando is a TV Fanatic Staff Writer. Follow her on Twitter.