One of the things that Glee writers love to do periodically is throw in an episode that just shakes everything up. "Girls (And Boys) on Film" was one such episode.
Relationships that we've watched build have now been broken down. Friends have become enemies. Enemies are becoming friends.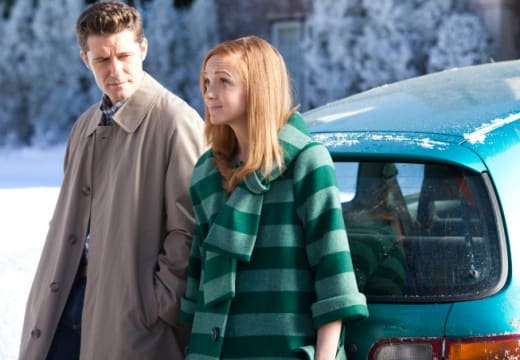 When we last saw Glee, Rachel had slipped into the bathroom in her apartment while Brody slept blissfully in the next room. We spent the next few weeks questioning whether Glee would go there again with another pregnancy story. We speculated. We read interviews. We waited.
It looks like they're most definitely going there again.
Rachel is pregnant.
Watching Santana try to pry the information out of Rachel by way of movie choice was classic Santana. Watching her comfort Rachel after confronting her about the test she found in the trashcan showed how much heart the character has. She's a bitch and she's not afraid to tell you the truth, but she'll hug you if you really need it. And tonight Rachel needed it.
I love having Santana back on my screen. She was easily the best part of the New York scenes tonight. (For Santana goodness, check out the Glee quotes page.)
The reveal that upon moving in she waited for the opportune moment to dig through all of Kurt, Rachel and Brody's things was campy and wonderful. Santana wants to know who she's getting into bed with, proverbially speaking, so it's no shock that she would go on such a discovery expedition. Besides, without her dirt quest, how long would it have been before Rachel discovered that her Baby Daddy is peddling his wares to pay for college?
How great was Kurt's "I'm with you" to Santana regarding Brody's shadiness?! Finally, FINALLY someone to say all of the crazy things we've been thinking about Brody! Her continued comparison of him to a Ken doll was hilarious. And perfect.
Kurt's tears during Moulin Rouge were also perfect. Sad, yes, but perfect. Here's a guy who recently hooked up with his ex, his first love and who is still sort of floundering in that loss. He got completely caught up in the moment and gave us a beautiful rendition of "Come What May," all while Adam sat next to him on the couch. 
We haven't seen much of Adam, but I do like what we've seen so far. He seems to understand where Kurt is in his life right now and seems okay with helping Kurt work through it all. His insistence that they go and find a movie of their own felt sweet. Klaine is end game, in my opinion, but there's nothing wrong with Kurt exploring his options.
On that note, Kitty's advice to Marley was to explore her options. Or, rather to collect men like they're diamonds.
Why Marley feels safe confiding in Kitty is beyond me, especially after the bulimia-pushing. I can only imagine that it's brought about because Kitty is the popular girl and Marley is sort of the wallflower and there's a part of Marley that wants to be more like Kitty so she thinks they're really friends when the truth is that Kitty is friends with no one. 
The Marley-Jake-Ryder love triangle and bromance kind of blew up this week. Marley knows Jake wasn't behind the Valentine's Day surprises. Jake knows Marley knew already. Jake also knows that Ryder kissed her. Jake's belief that monogamy and trust works has just been shattered, as has his friendship with Ryder.
Will Marley move on to Ryder now? Will both boys decide not to date her because their friendship is more important? Will Puck and Jake fight over Kitty? Will Jake and Ryder fight because of that kiss? Time will tell if they become a B-plot feud to the showdown coming between Will and Finn.
Finn was adamant that Will had to find Emma. Will was a wet noodle who thought that moping around in his apartment was the right course of action to show Emma how much he cares. He was wrong, of course, and a team of high school students and a recent graduate showed him the light. 
Emma left Will standing at the altar because he went away and when he came back into town she felt like she didn't know him anymore. After him being away for three months and coming home occasionally for events at the school. If she'd said she ran away because he has a tendency to be a douchebag I would've understood. This explanation that we were given tonight I do not understand. 
Will, however, will now never believe Emma's explanation for why she left him standing at the altar because now he knows that Finn kissed her. In his mind, Finn has gone from best man to Public Enemy Number 1 without so much as a conversation with Emma or even the understanding that while it's certainly never okay to kiss your friend's girl, Finn, his best friend, is 19 and has basically no life experience. 
Why did we root for Will and Emma to get together when he was married to Terry only to have this happen to them again? It's so disappointing.
Other notable moments from tonight:
The music, with the exception of "Diamonds Are a Girl's Best Friend/Material Girl," was great. Check out the Glee music page for the full list.
Jacob Artist has amazing legs. Truly, truly amazing. I need more episodes where his legs are on display. Maybe another dodge ball episode. Or he can take up track. More of Jake's legs, please!
I love it when this show goes meta. Mr. Pillsbury's speech about how the kids at McKinley choose their colleges a week before graduation when kids in the real world start applying in their junior year was perhaps comical only to me, but I chuckled. That was a pet peeve of mine last year so I'm glad someone finally said something.
What did you think of "Girls (And Boys) On Film?" Are you as exasperated by Wemma as I am? What was your favorite Santana moment tonight?
Miranda Wicker is a Staff Writer for TV Fanatic. Follow her on Twitter.