Grey's Anatomy returned with a stellar installment that featured chaos and discord on full blast.
Picking up right where we left off with the Harper Avery Foundation saving the hospital, Jackson was left in charge. As tension was ignited in "Transplant Wasteland," the doctors and interns struggled to juggle several transplants simultaneously.
Thanks to his mother, Jackson was put in a position that caused him to make enemies left and right. Regardless of how everyone felt, they all knew they had a new boss and had to ultimately follow the leader.
With the foundation Catherine calling all the shots, he simply couldn't catch a break, as he tried his hardest to keep the hospital afloat in the midst of Owen's absence.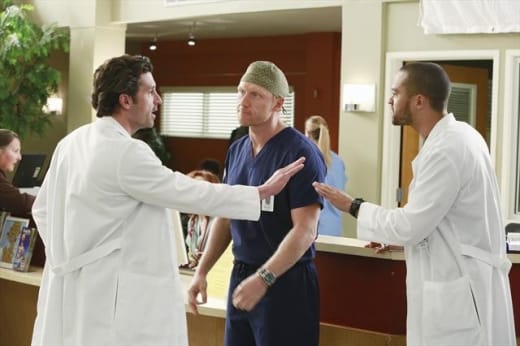 I can't say that I was too surprised that Owen quit after finding out that the foundation wanted to fire him as chief. I absolutely loved the above scene with Derek, Owen and Jackson shouting at the top of their lungs out in the open of the hospital. I totally understood where each one of them was coming from and thought it was entirely realistic that they'd each be that upset and frustrated with all that's happened recently.
Aside from the politics, transplants were piling up with the OR fully booked and half the nursing staff MIA. Every medical case this week was touching and featured the doctors at their very best. I especially liked April's case, and this was surprising to me because I hadn't ever been an April fan. Her case was heartbreaking, and I appreciated the way that she was able to help the patient's family understand his difficult decision. 
In the final minutes of the episode, Jackson finally stepped up and impressed the new board of directors by making several big decisions. Most importantly, the foundation would begin following the board's lead. Other major changes included Owen's reinstatement, re-opening the ER and trauma center, and re-naming the hospital the Grey Sloan Memorial Hospital.
How fitting of an ending, right?! I couldn't help but think Mark would be smiling because he would be just so incredibly proud.
I've always been indifferent to Jackson, but was certainly glad to see him succeed by winning over the other doctors and making the right decisions. It should be interesting to see how well he grows and develops as we already know and have seen that politics are a huge part of any job.
Other Thoughts
I cringed every time that Catherine called Jackson "sweetheart."
We've been missing the bromance element. Luckily, Cristina called Derek out for not actually forgiving Owen which led him to find Owen and admit that he wasn't mad at him but instead at the world and Mark. Sigh, McDreamy, I still miss McSteamy as well. I've heard that time kills all wounds though. 
The writers are still hinting at a Jo and Alex pairing. Are you rooting for these two?
Be sure to check out TV Fanatic's exclusive interview with Jesse Williams, who plays Jackson.
Overall, this was a solid episode that wasn't boring in the least bit. I'm stoked for the changes that are coming to the new Grey Sloan Memorial Hospital. How about you? How do you think Jackson's doing so far as the new boss? With so many cases this week, what was your favorite?
Hit the comments to share your thoughts, and don't forget to return later this week for the Grey's Anatomy Round Table. Here's the promo for next week's episode, "Idle Hands" ...