This fourth season of Justified hasn't felt like the three the preceded it.  The search for Drew Thompson - in one way or another - has really seemed to drive the whole thing.  Each and every episode, including "Get Drew," has had its own identity, but it still has felt more and more serialized than anything the series had done before.
I'm not saying that strategy is necessarily a bad thing in general.  Everyone knows that I will all but rule out watching a show that does things strictly episodically, but during seasons two and three of Justified, they had a nearly perfect balance of small and big picture.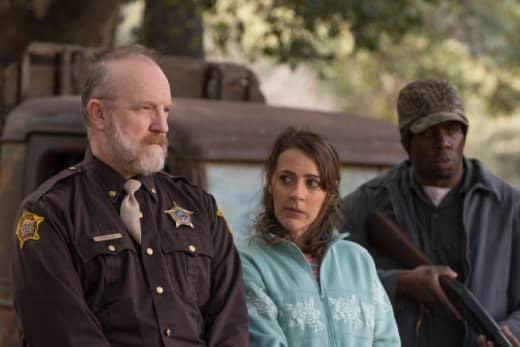 The chase for Drew Thompson has been a bit too big picture.  Even after finally finding out who he was posing as last week and catching the sneaky old man this week, there is still more to do regarding Drew for the final three weeks of the season.
Raylan Givens ended the hour extremely worried about what would happen to him and his fellow marshals now that they had Thompson in tow.  Tonin knows who Drew is, and he'll being coming after him.  Will he fight through the U.S. Marshals to get him?  I sure hope so. And I certainly hope we get to see it go down.
One of the things I absolutely loved about "Get Drew" was how on two occasions Justified took a moment to make a self-aware reflection.
One was when Johnny went on and on about how Boyd has gone from one thing to the next in his life.  It's something that many have noticed, and some probably thought of it as a bit strange that he went from white supremacist to finding God to hillbilly criminal so quickly and seamlessly.  So did Johnny, and it was nice to see him acknowledge it. 
The other time was one of the most awesome moments of the season.  Art stopping Raylan and Rachel to recognize how fantastic of a human being Drew Thompson is was just so enjoyable.  Leave it to Art to congratulate a criminal for getting away with terrible but incredible things.
The 10th installment of this season also brought back a very good friend of ours, and Ellstin Limehouse didn't disappoint.  His need to screw over Boyd sent the plot of the episode in a different direction, and his slow talking ways were just great to see on our screens again.
It was upsetting, however, that Ellen May didn't make it out of that situation like many would have hoped.  Watching her enjoy herself - and Drew - as they almost escaped for Mexico was rewarding.  Ellen May has been easy to latch onto as a character, and watching her on the cusp of happiness for the first time in her life was fun.
Having all of that ripped away by both Limehouse and Boyd's respective needs for money, was pretty disheartening.  I wouldn't be surprised if the girl who had no interest in turning on Boyd and Ava now does because of what they just put her through.
With Tonin, or Tonin's people coming after Drew, things don't seem like they will slow down on Justified before the season comes to an end.  And I can't wait to watch how it ends.
What about you all?  What did you think of "Get Drew?"  What were your favorite moments?  Your least favorite?  And what do you expect from the final few episodes of the season?
Dan Forcella is a TV Fanatic Staff Writer. Follow him on Twitter.