Our NCIS review broke down "Prime Suspect," this week's episode, in detail.
Now, TV Fanatic staff members Steve Marsi, Douglas Wolfe and Eric Hochberger have assembled for our weekly Round Table Q&A discussion of various events and topics from this installment.
Join in as we analyze another multi-layered hour of TV's #1 show!
----------------------------------
1. Describe this episode in one word (or two, or three, or four).

Steve: An enjoyable, if unexceptional hour.
Doug: A lighter change of pace.
Eric: Old-school whodunit caper.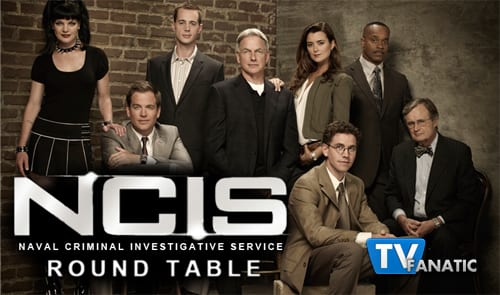 2. Favorite quotes or scenes from "Prime Suspect"?
Steve: Gibbs at the barber shop talking with his old friend. I love any insight into how the man spends his time, even if it's just a few quick scenes of Haircut Tuesday. Also when he called his dad.
Doug: I enjoyed watching Dorneget and Tony fighting it out while Melissa watched them, interpreting their spat as a lover's quarrel. That was fun.
Eric: Vance asking Abby to help with his daughter. It's about time. Also some more subtle moments like Tim tripping over himself to tell people Abby's friend is NOT her boyfriend.
3. What was your biggest problem, if any, with the episode?

Steve: The case and some of the details therein were definitely a bit of a stretch, but that's hardly cause for alarm as any show has to be granted some element of artistic license. I enjoyed it overall.
Doug: Most TV crime shows require a suspension of disbelief, which the audience is happy to provide. I just could not get my head around the notion of the reporter actually murdering anyone (in this case, three) in order to advance his career, unless he's a psychopath. It's understood that psychopaths would have no compunction against doing so, but then again - aren't most of them fairly organized and intelligent? This just did not make sense. I couldn't buy it.
Eric: I agree with Doug. While it made for nice misdirection, there's no way that reporter was so desperate to revive his career that he'd start KILLING people, grotesquely and systematically at that. Really though it's all about the characters and we've had so many great moments this season to make up for any holes like that.
4. Did Gibbs do the right thing in helping his friend?
Steve: Can you even answer that? It was pretty much vintage Gibbs. He stands by his convictions, even if it means breaking the rules. It's not always admirable (though often it is), and it usually gets him in trouble, but that maverick streak is one of the many reasons he's such a beloved character - and leader.
Doug: Morally, he did the right thing. Legally? That seems a little grey. Wouldn't he have been legally obliged to hand over any information to local police? Such as the fact that the barber's son was left-handed - in addition to being a dead-ringer for the artist's sketch? I honestly don't know.
Eric: I understand why he tried to conduct his own shadow investigation, but once he began to suspect his guy was in fact the killer, impeding Metro's case was a bit shady. Just Gibbs being Gibbs, though.
5. Who was the NCIS team MVP of the week?

Steve: Dorneget, for putting up with Tony, and Vance, for pranking Tony. Sorry Tony.
Doug: This one goes to Vance: the way he handled his irritation with worry-wart Abby by asking for her help with his daughter, effectively resolving two issues at the same time. And for pranking Tony. I hope we continue to see him evolving like this: it makes him more accessible and likeable.
Eric: Leroy Jethro. If you're friends with that guy, he's always got your back.
6. Tony's antics in the Bahamas: Funny or over-the-top?
Steve: I love Michael Weatherly at times like this, but hope it doesn't become overdone, because he's capable of so much more. If it's balanced out by some Tony episodes with more depth later, I'm okay with it.
Doug: Vintage Tony for the most part: he was in his element, being on a beach and surrounded by women. Plus, he thought he had his very own probie servant in Dorneget. His misinterpretation of Melissa's interest in him funny but... the shtick is getting to be too formulaic.
Eric: Funny. I know people may have gripes but I laughed!
7. Is Ziva off her game?

Steve: They did lead you to believe that, didn't they? I'm guessing the various hints at that will manifest themselves in the big arc to conclude the season. Ziva's drama hasn't unfolded quickly thus far because they're setting the stage - at least that's my prediction. Can't wait to see how it plays out.
Doug: I can't decide this one. It could be that the writers forgot about character continuity in allowing the detective to read information from her desk: the normal Ziva would have not allowed that mistake. Or it could be a setup for the fact that she really is off of her game. I haven't seen her make any other overt mistakes, so I'd have to say "no" at this point. (Now watch: the next episode will feature Gibbs calling her out on that goof. Or worse: Tony.)
Eric: Maybe, but if so, isn't that to be expected as normal, human behavior?
What's your take on these issues of the week on NCIS? Discuss below!
Steve Marsi is the Managing Editor of TV Fanatic. Follow him on Google+ or email him here.