Southland Exclusive: Regina King on Directing, Lydia's Rough Season and More
Jim Halterman at .
On tonight's Southland Season 5 episode, Regina King not only does her usual stellar work in front of the camera as Detective Lydia Adams, she also steps behind the lens to direct "Off Duty."
We jumped on the phone with King yesterday to talk about the challenges of directing herself and her co-stars, as well whether our gal Lydia is ever going to get a piece of happiness. Read on for excerpts from this exclusive Q&A...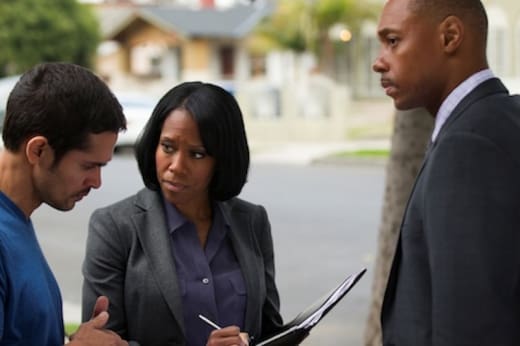 TV Fanatic: First, you not only direct this week's episode but Lydia also has a meaty story. Was it more or less difficult to direct when you're also in so many scenes?
Regina King: Much more difficult! I can say that because I directed a film on our break so I was able to actually have the first-hand experience of being only behind the camera and doing both and it's more difficult doing both.
TVF: You don't normally shoot a lot of scenes with your co-stars since the characters are off doing other things, but how was it spending more time with them?
RK: It was great but what was even more special is the way they received me with the director's hat. It could definitely go a lot of different ways, especially when you have other actors who are interested in directing as well but they were so supportive and very excited about me having the opportunity. They embraced me and were on their best behavior, which they always are. I'm really lucky. I get to work with a great group of actors and they're so good at their jobs. That is one of the first things that makes the director's job easy is when you're talent is good talent.
TVF: With this episode having a big story for Lydia, was that your choice in directing this particular episode or total happenstance?
RK: It was the happenstance. Zach Whedon, the writer of the episode, it's the first episode he's written for our show and he's an amazing writer so I got the opportunity because the director slated to direct episode 5 had to step out. Christopher Chulack [Executive Producer] wanted to remain with a female and he had seen the movie I had done the year prior so he said 'I think you can handle it, Reggie, and we'll support you and be there.' So that's how that came to be. I just got lucky with an amazing script.
TVF: Lydia has had a rough season. She has a young baby, her mother just died and the death row story in this episode is heavy. I want her to find some happiness but this is a drama so I know how that goes.
RK: Yeah, that's the whole point of it being called a drama but, no, I think by the end of the season it may look up a bit for Lydia. A bit.
TVF: Lydia needs a good man. That's what she needs.
RK: I know! I think everyone would agree with that!
TVF: The last shot of the episode is with Lydia but, without giving too much away, how difficult was it to shoot?
RK: The DP, Dana Gonzales, it was a suggestion that he had. He showed me something with Patty Duke and said to do the dead-on camera shot. I said 'this could be interesting if it doesn't feel like she's breaking the fourth wall but feels like we could set up the show where it feels like it's a window into [Lydia's] soul.' I totally got what he was saying and that's what we came up with. Was it scary? Yeah because I'd never done that before as an actor and then to make the choice as a director to go along with what I'm saying as a director, it was freeing.
That's one of the things that's so great about directing is the collaboration and the opportunity to trust. You're surrounded by nothing but artists. Our camera guys do things…I kind of give them the blueprint of what I'm trying to do and our camera men are very unique…they find little nuggets that you might not have seen or they might start tight on the spoke of a tire and then pan over quickly to what we're about to see. Sometimes you get in the editing room and you're hearing the dialogue over the tire is more interesting than starting it, actually, on the character's face.
TVF: With this season more about the personal lives of the characters, how has that been for you?
RK: I think this season, I know we've always talked about it over the past years when we're doing interviews that the show is focusing more on who the men and women behind the badge are but I do think this season in particular we've done it more than any other season. For Lydia in particular, I think it's made it more interesting to tackle as an actor. Of course, as a director you invest in all of the characters, not just your own.
Jim Halterman is the West Coast Editor of TV Fanatic and the owner of JimHalterman.com. Follow him on Twitter.