I understand "To Have and To Hold" is a phrase that is highly connected with love due to its place in wedding vows, but this hour of Mad Men couldn't have convinced me more that the meaning of the two verbs inside the phrase can be play such different roles within a marriage.
Don Draper uses power tactics to control his wives. To have them means serious business to him, so he uses what he feels is ownership to his advantage. To hold his wife, in this case Megan, seems like a chore to Don most of the time. After an indeterminate amount of time, holding his bride is no longer want interests him, so he needs to find that intrigue elsewhere.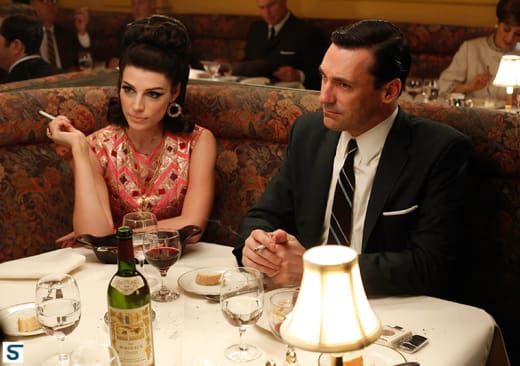 His level of hypocrisy was through roof in this episode, as well. He couldn't stand the sound or the sight of Megan doing a love scene on television, even when he knows he's doing the same thing and more nearly every day of his life. Don compares what she does to prostitution when not more than an episode ago he was paying his mistress immediately after a roll in the hay.
I don't want to continue to hate on Don's character for being who he is, but his insensitive nature hasn't even been interesting as of late. The story just seems to cyclical. Don gets pretty wife... Don's gets tired of wife... Don's cheats on wife... and Don struggles internally with how awful he is. It's not nearly as fun to watch when it's something we've seen before. Sure, maybe things will end differently this time, but that doesn't mean the journey to get to that conclusion will be any less boring.
Can we not think of something different for Don's personal life story line?
The one thing that was enjoyable to see was Don and Megan dealing with the swingers. Watching them laugh at the idea was refreshing. If Don and Megan were just happy, would they not be able to work with that? That might just not be where they want to take the character and the couple, and that's fine, but the current situation just isn't holding my interest that much.
What did hold my interest, on the other hand, were the dual ad campaigns for Heinz Ketchup. I loved the pitches themselves, I loved the meeting in the hallway and I loved the conclusion at the bar.
Both pitches worked, both were creative, but they were so different. It was nice to see Don being Don in not giving the client anything that would make him say "Hey! There's my product!" His "Pass the Heinz" campaign was great, but it didn't grab the client as much as it would have the customer. Peggy's - "Heinz. The only Ketchup" - was also great, and it showed a big bottle of Heinz at the top, which should have been just what they were looking for.
Unfortunately, neither came home the winner, but thanks to it getting out that Don and SCDP were in the meeting, they ended up the big losers. The lack of loyalty to Beans is sure to give the agency a bad name in certain circles, making things challenging for them in the future.
If it screws with Peggy and Stan's friendship, it will make me even more upset. Stan has been the best thing about the early part of this season. With his ridiculous hair, beard and clothing, along with his phone convos with Peggy, and comments in the creative room, Stan is the man. If he gets in trouble for spilling the beans (pun intended) to Peggy, I will be very angry at the young female executive.
With the swingers, the larger volume of African-Americans around, and Joan's escapades, it is clearer and clearer every week that the times they are a changing. Unfortunately for Harry Crane, things aren't changing quickly enough.
He still gets no respect, and he presumably is never going to be a partner even though his television department is bringing in boat loads of revenue for SCDP. Maybe if he stopped acting like such a goof, and quit breaking into meetings like a chump, he'd become something around there. Although, if his rampages will be joined by Roger Sterling hilariously wanting Harry to continue his rants, I will welcome them.
Through three episodes, Mad Men Season 6 hasn't been up to par with what it brought to the table last season, but it will always be a top level drama. The acting, the direction and the writing still combine for some of the best television out there, even when some of the story lines are less than their best.
What did you all think of "To Have and To Hold?" Was it the best of the season? Or did not hold your attention? What were your favorite parts? What moments to you like least?
Dan Forcella is a TV Fanatic Staff Writer. Follow him on Twitter.