Watching Hannibal can be like an out of body experience - and "Fromage" helped explain why.
The series is so out of the realm of normal human understanding, it's like watching a horrible, macabre fairy tale. And poor Will Graham is stuck in the center of the story as we look idly on, unable to help.
From the very first scene, I started hearing the Charlie Daniels' song "Devil Went Down to Georgia" in my head and wanted to name this review Rosin Up Your Bow. A better title came later, but I certainly didn't see it coming as the episode began.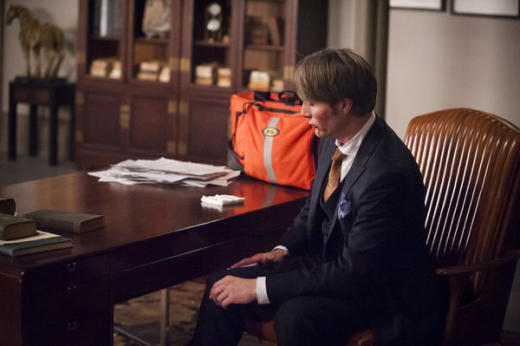 As Will struggled with his sanity, (and really, can you think of a worse sound to hear in your head daily than that of a wounded animal that needs your help?), Hannibal continued to struggle with his desire for friendship. The theme of loneliness and the need for someone to understand him is certainly recurring and he's made it clear to his therapist that he'd like Will to take on that role, even though they are so different in nature.
When Hannibal is faced with someone who is like himself, he doesn't find that person pleasant in the slightest. Franklin had been trying to be his friend, and instead became obsessed with him. He did bring into Hannibal's world his friend Tobias who, like Hannibal, took the artful approach to murder.
It was his handiwork that they found at the symphony and he had even been teaching students on cellos strung with human gut strings. It's fascinating to think two men would find such crafty ways to use the human body in their work and to innocently con others into doing the unimaginable, by using and eating the their work right along with them.
But Tobias seemed to have a need to just a little past that of Hannibal's. He wanted to see if the police would be good enough to catch him. He was egging them on with his work. He had also done his due diligence and followed Hannibal so he knew exactly what he was getting into with his dinner, once invited. Each had intended to kill the other, but Will interrupted what could have been an interesting dinner party.
Learning that his privacy had been invaded and that any chances Tobias took with his own life and getting caught now meant the possibility of him spilling his guts (pun!) to the police, Hannibal couldn't let him go for long.
The scene at the string shop was totally bizarre and it's getting to the point where I can't tell what is real and what is in Will's head. Tobias definitely killed the police and Will was walking through a chamber of horrors as he experienced what went into making human gut cello strings.
I don't know if Hannibal's intent in letting Franklin go as a patient was to protect him in some way from what he was going to do to Tobias, but it seemed a genuine gesture on his part to sever the ties in a decent manner. It's too bad Tobias broke up the moment and Franklin took that time to be strong. His attempt to talk Tobias off the ledge after admitting to several murders was borderline hilarious in light of the fact he was doing it in front of two seasoned serial killers.
You knew he wasn't going to make it out alive, but that Hannibal took out both parties just seems unfair. He gets to do everything and get away with it! He probably even stole some of Tobias' gut for his instruments. It amazes me how Hannibal always comes out looking like an innocent.
Will: I feel like I have dragged you into my world.
Hannibal: No, I got here on my own, but I appreciate the company. | permalink
If Will only knew what he was up against. I hope we get to see the day he comes to that realization, or someone does. As a toss up for renewal at this point, all we can do is hope. With hours as entertaining and imaginative as this one, it would be a shame to leave even one script lying on the floor, don't you think?
Carissa Pavlica is the managing editor and a staff writer for TV Fanatic. Follow her on Twitter.