"Entree" reveals Lecter's true colors tonight (not that there's any doubt), and, rather amazingly, Lecter is at times a man who sympathizes with others.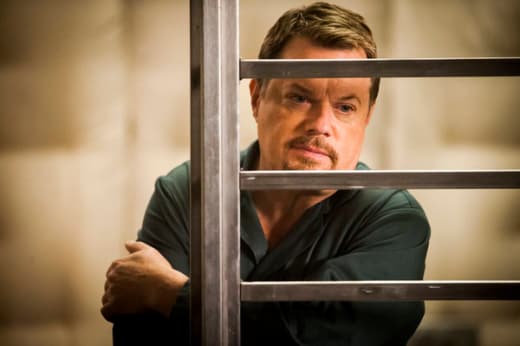 Lecter's ability to feel empathy is the greatest strength and asset he has in maintaining the status quo. He can continue to do whatever he wants so long as he can continue keeping the mask of his persona on, and project this stability that is always missing from Will's profiles or Alana's summaries.
Seeing Lecter finally snap as Miriam found his trail is completely necessary, and makes for some wonderful television. Up until now there's been glimpses or hints to Lecter's natural tendencies, but nothing that is truly showing the depraved man he is. We needed a reminder of the man he really is, and a wake up call that Lecter's mask is just that – a mask – he's not in it to help anyone other than himself.
So as Lecter climbed down his ladder and saw Miriam catch him in a lie. We see the real ripper get to work on his victim, but she is left in a state of ambiguity. Is she really dead or does Lecter have something else up his sleeve?  
Between Bella and Miriam, it's a small miracle Jack is even functioning with those two on his mind. Death offers no escape or peace of mind for him at home or at work. Death means murder and gore at work, and death means watching the love of his life slowly fade away when he's at home.
It's sad and encouraging that Jack is willing to reach out for help, but his hand is being held by Lecter. Lecter doesn't let Jack bury his feelings or help let go of them; instead he's continually prodding or asking for new information on Marie. That must weigh on him constantly, and the depressing part is the Jack is the one who needs it the most. 
Will's role in "Entrée" isn't as prevalent as past episodes, and the scenes he is in are always oddly captivating. The amount of violence is still a hard thing to stomach, but at times the murders are always oddly captivating and, in a twisted way, beautiful. It's not an easy task to make murder look good enough to eat.