With the last few episodes of Scandal Season 2 escalating the drama, danger and tension amidst our group of Gladiators and White House employees, don't expect things to slow down as we head to next Thursday's finale.
In a chat yesterday with Betsy Beers, the executive producer previewed what's to come - and it sounds like things are going to go off the rails like never before for each and every one of these characters.
"There are a couple of large surprises," Beers teased. Let's run down our list of Scandalous individuals, shall we?
-------------------------------------------
Fitz and Olivia: Fitz said last week that he's choosing Olivia over the Presidency, but is it really that simple? "I think that's just something which is so much the core of the show, that you have to make a choice," Beers said. "In Fitz's head he continues to wrestle with is there a way to have the Presidency and Olivia too, and I think that's going to continue to be something that we will be dealing with." One big obstacle? The First Lady. Speaking of her…
Mellie: Last seen spilling her guts on national television, how many cards does Mellie now hold? "I think that Mellie's holding a lot of cards right now and I think there's going to get much more insight into that situation in the next episode." Smart woman that she is, Mellie knows not to lay it all out either and hold some surprises for later: "She definitely has some power there and yet she's kept some secrets to herself."
Cyrus & James: As James rises in his career as a journalist, hubby Cyrus is coming close to losing his marbles, which we'll see more of in this week's episode: "The wheels are really coming off the bus here and Cyrus in a weird way is the guy who has his hands everywhere, so what you're going to see in the next couple of episodes is just going to expand that." A lot of his drama is definitely going to spill into his relationship. "I think you can expect an escalation between James and Cyrus," Beers teased.
Huck: We've seen him crash and nearly burn, but as he's still mentally and physically recovering, what's next for Huck? "I think that we're going to watch Huck continue to deal with what he's been through and we're also going to watch, there are a couple surprising turn of events with Huck." (And a quick BRAVO to Guillermo Diaz for continuing to amaze us with his portrayal!)
Jake: As cute as Scott Foley is, that doesn't mean we're supposed to trust Jake at this point, right? "You're correct," Beers said, cryptically. "You're feeling exactly the right thing which is should you trust him or shouldn't you? I think we're going to look a little more at that in the last couple of episodes." Beers also teased that we'll learn more about Charlie, Huck's former mentor, who is as scary as his sugar addiction.
David & Abby: I, for one, am waiting for them to get back together. Anyone with me? But what did Beers think of that? "I think that you'll see things continue to percolate in the last couple of episodes. I can't believe it's gone away totally."
Quinn: With Huck still slightly off his game, will all of his teachings pay off for Quinn? "We're going to see she's a very good student," Beers said. "I think the teacher/student relationship is something that we will definitely see continue to pursue and invest in."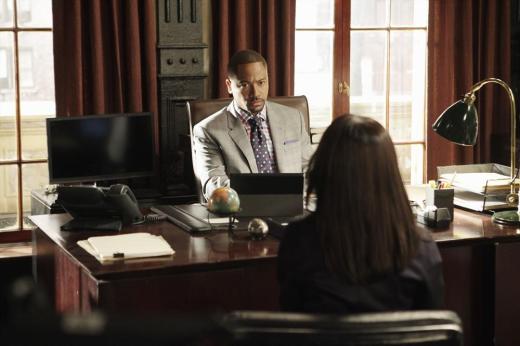 Harrison: Is there something coming for the solid guy who hasn't quite had his own juicy story for awhile? Similar to how creator Shonda Rhimes didn't give us too much insight into Alex Karev on Grey's Anatomy, it may be some time before Columbus Short's character is fleshed out.
However, that doesn't mean he doesn't have a purpose. "I think that with Harrison we've learned a little bit about his back story," Beers said. "I think right now Harrison's position is he wants to be there for Liv. He is trying to step up to trying to be an equal Gladiator. That right, now is what I think Harrison's journey is. It's what is his place at Olivia Pope & Associates and where does he stand with Olivia."
Jim Halterman is the West Coast Editor of TV Fanatic and the owner of JimHalterman.com. Follow him on Twitter.