The Glades Review: Doing It For Love
Jim Garner at .
It has been nine months 16 days since we watched Jim get down on one knee and pop the question to Callie. That's a long time to wait to learn her answer.
And our reward for waiting 41 weeks was to get to wait another hour as the show opened with Jim explaining that she needed to think about it. Honestly, though, when we've already sat around for over 6,900 hours, what's one more?
What an unusual hour it was. "Yankee Dan" felt more like a misplaced Halloween episode more than a season premiere. While Carlos and Daniel were totally freaked out by the idea that the plantation was haunted, Jim being the skeptic was his normal calm, cool, cocky, self.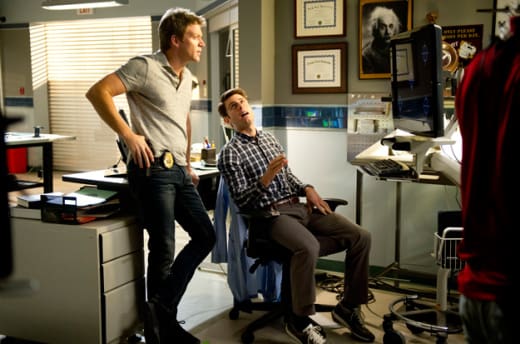 But some of that changed after Martha showed up on the video of the couple finding the body. How many times did you rewind the scene to watch the transparent figure move along the bottom of the screen? I went for at least three, not counting the initial time through.
Then we had the kind of Ghost Hunter scene where it got real cold and the picture fell and nearly hit Jim. For anyone who watches paranormal shows (like yours truly), we know that spirits are known to pull the heat out of an area to try and manifest or move objects. 
This was subtly done and I appreciated not having it explained to me, unlike the EVP that Dan had to fill in details on what it meant. I'll let it slide, though, because it seems like every paranormal show explains it at least once every episode as well. 
Of course Jim got his man and figured out how to save the house for the non-crazy sister. And of course he seemed to have had some help this time from Martha. Hey, maybe Jim is a believer now. 
And just like the show made us wait over 416,000 minutes to give us Callie's answer, I waited until the end of my review to discuss it. I know, I'm mean sometimes. 
What a great job they did of building up the tension, from Jeff talking about schools in Atlanta to Miranda confessing how great Callie is and how much she didn't want her to leave. When Callie showed up in tears at Jim's pool, I got a little worried that the writers were about to make a serious mistake. 
Thankfully, my fears were all for naught as Callie said yes! I really hope Jim and Callie can figure out how to make the relationship work with her in Atlanta. I would suggest he look for a spot on the police force there, but somehow, I doubt they would let him carry a putter around every crime scene and run his own show like he does now. 
All the better for us I guess. Overall I'm giving the episode 4.3 engagement rings for a happy return of Jim and Callie! What did you think of the return episode of The Glades? Are you happy or sad that they moved it off of Sunday and onto Monday?
Jim G. is a TV Fanatic Staff Writer. Follow him on Twitter.