After last week's less than stellar offering, "I Just Wasn't Made For These Times" drifted back towards the story telling we've gotten to know. While not fully back on solid ground, it did offer a few surprises along the way.
After Nolan and Tommy rescued astronaut Gordon McClintock (Brian J. Smith from Stargate Universe) of the "Bravery Nine" and took him out to Rafe McCauley's place, I immediately thought back to my teen years and the Challenger disaster in 1986. I remember reading everything I could about the search for answers, wreckage and the remains of the astronauts. 
I found myself considering what it would be like if a few years from now aliens showed up and we found that Christa McAuliffe or Commander Scobee were really still alive, had been captured for study and had been held in suspended animation for all these years.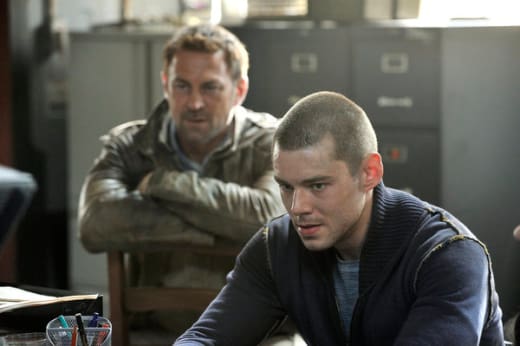 But before I got too far down that line of thought, the twist kicked in. We found out McClintock wasn't the real astronaut but an Indogene programmed with his memories to be used as an infiltration weapon that was never used. I've got to give Kevin Murphy and his team big kudos for that one: very well done, I didn't see that twist coming!
However, even more importantly, it opened the door to finding out what all Doctor Yewll had done during the pale wars. We got a tease of it from Pol Madis a couple of weeks ago that the doctor had been up to no good. It's a pretty good guess that Nolan is the first person Yewll's feared in a while. 
I can't wait till Yewll and Nolan get back to that conversation. We know they will, given that Nolan is like a bloodhound with a scent when he puts his mind to it. And Amanda being hurt put his mind to it.
Speaking of Amanda, Connor Lang was back to make goo-goo eyes at Amanda... again. I'm not sure how he has survived at Earth Republic, he doesn't strike me as the "go for the throat" type of person they normally employee. 
I will give Lang this much, he now has me very curious about his and Amanda's past given his comment on them being a family had she trusted him more. Did she think he was sleeping with someone? Was he undercover? So many questions, I could go on and on.
Of course, as I predicted, Irisa and Nolan are still at odds. I have no idea what they can do to heal the wounds they've created. Irisa saying that the first time she felt like she belonged was with Sokar has to hurt Nolan to the core. I really hope they figure it out soon. I miss Irisa. 
The hour ended with Doc Yewll saying something about a plague. The girl that collapsed said she was from the bay area, which is where the game takes place and for the last two weeks in the game there has been a nasty plague outbreak that's now found its way Defiance.  
As one of the first cross-over events between the game and the show, I'm curious how this is going to play out. According to the website, the players are working like crazy to find a cure. Will this cure take place just as the show airs next week? I'm excited for Trion and Syfy; I really hope this goes well for both companies! 
All in all, I'm giving the episode 4 salutes for the long lost hero Gordon McClintock; I was thrilled that he got home to Alabama to find his bride, even if she was 30 years older. 
Jim G. is a TV Fanatic Staff Writer. Follow him on Twitter.