It was only fitting that on Father's Day 2013 "The Quality of Mercy" treated us to one of the best dads around. Wait, no... Don Draper is one of the worst fathers of all time. My mistake.
The writing is great, the direction is wonderful and a number of characters are of interest, but the highlight of Mad Men Season 6 might be the entertainment value in watching Don be an absolute a-hole.
Sure, he's been awful in the past. But now Don is treating others like garbage with such efficiency.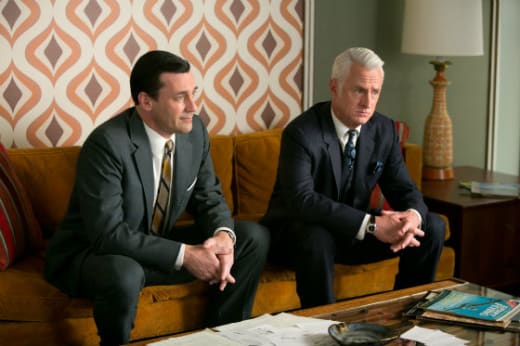 Peggy, Ted, Sally, Harry and Megan - in one way or another over the course of the hour - felt Don Draper's wrath. The latter two were hit simply with one-line comebacks and could both be taken as a joke... but Don didn't seem to be laughing.
Megan: I wanna make you a real breakfast. You look terrible.
Don: So do you. | permalink
Harry: I've got good news.
Don: You finally found a hooker who will take traveler's checks? | permalink
It's quick wit. It's also a lack of caring for others.  on Draper doesn't mind treating his friends, family and co-workers like trash - and it's been a joy to watch.
Nothing was more important to him than keeping his secret from Megan. Why? To save her feelings from being hurt? Doubtful. He is selfish. Don doesn't want yet another part of his life completely ruined. So how does he react? He jumps at the opportunity to send his daughter away to boarding school. He'll pay for it all.
Sally had said she didn't want to go to NYC anymore anyway, but his lack of compassion is part of a bigger problem with Don as a father. Sally's newfound lack of caring for her father could not have been better summed up by the great Kiernan Shipka, as the disdain fell from her face, the cigarette puffed from her mouth and this interaction took place...
Betty: I'm sure your father's given you a beer.
Sally: My father's never given me anything. | permalink
Peggy and Ted have really been hitting it off.  How far they've taken their relationship we can't be too sure of, but it was clear to us all that it's more than a great working relationship. It's crystal clear to Don
He didn't like it. Yeah, he thought that the work was being compromised because of Ted's feelings, but he was also jealous. Peggy was HIS girl. There might still be a little something buried deep inside of Don Draper that wants to be happy. Working with Peggy Olsen on an ad campaign could give that to him.
Calling out Ted's love for Peggy, but not actually mentioning it, was genius. He kept their secret - even if he thinks everyone in the office can see what has been going on - and he won over the client by using their dad partner as his explanation for Ted's behavior.
Was this move too much? Don said he was just looking out for the agency, but it didn't seem that way to Peggy. To her, Don's a monster.
Moving from the biggest jerk in New York to the nicest guy in the world, it was great to see that the entirety of the Bob Benson mystery wasn't just that he was gay and had the hots for Pete.
No, instead, Mr. Double Coffee turned out to be a lot like Don Draper. He didn't steal a man's identity in the war. Instead, he just made a new person up, became him and attempted to remake himself as a much better human being than he was before.  
Who knew that just showing up with coffees and a smile could turn you into a junior accounts man at a major ad agency in New York? It worked, and he seems to be good at his job, so I couldn't be happier for the guy. When Pete found out, however, he of course wanted to bury him, just as he tried to do when he found out about Don's secret.
Rather than tattle on his admirer, he decided to keep his secret as a power play. Pete now holds this over Bob Benson, can force him to keep some distance, and knows he will get some of the junior account man's best work. It may be the best case scenario for Pete Campbell.
"The Quality of Mercy" also featured more of Sally's wonderful 'tude, Don's "waaa, waaa" and Ken getting shot in the face while hunting in Michigan. The hour was great, a perfect lead into next week's Mad Men season finale.
What did you think of the episode? What were your favorite moments?  What didn't you like?  Do you love or hate the fact that Don is a complete dick? Are you satisfied with where the Bob Benson story went?  nd wasn't it great to see our good friend Glenn back?
Dan Forcella is a TV Fanatic Staff Writer. Follow him on Twitter.