"Mother and Child Divided" showed what an enormous strain Regina going to rehab put on the relationships between all of the kids and Kathryn and John. Instead of helping matters, things seemed to have become even more tension filled.
Kathryn wanted both girls to herself, but seemed happier with Daphne - and upon her return Regina wanted Daphne to herself. Somehow in the battle between the sisters, Bay always comes out on the shoddy end of the stick.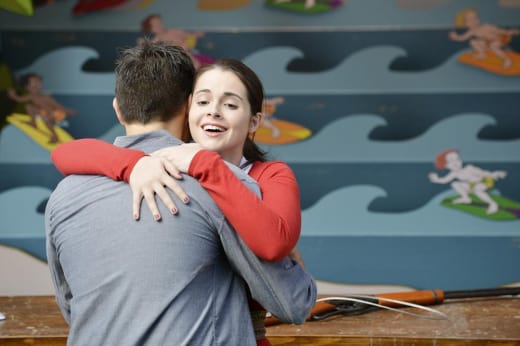 Even the photographic memory coffee kid fell for Daphne when John forced Bay to take an unwanted position at his senatorial office. Frankly, I'm sick of it. Daphne's a pain in the ass. She's entitled and always thinks she's right. As the seasons have progressed, they've made the chasm between the girls who were switched at birth even more disparate. Bay may have been raised with the silver spoon, but all of her silver is now tarnished and Daphne is draped in it. Why is that? Daphne isn't even nice.
To top it off, nobody was happy to have Regina back, especially not early. Leaving rehab before your treatment is finished is never a good sign to begin with and Daphne seemed to have gotten very comfortable with her life at the Kennish house. Regina made her feeling clear in big ways, including taking away the credit card Daphne was given for sundries. After everything they've all been through, they're falling apart.
It's hard to believe that Bay's car breaking down and her running into Ty at a local carnival so she could get a new job away from the stress of her overbearing family was what got Bay some respect from Regina. Even though John was beside himself at the thought of working at a carnival, it's definitely a job far more appropriate to Bay's personality. It was really cruel that Ty's friends played a joke on Bay by calling her to his place, but he stood up for her.
Considering The Lying Game wasn't picked up yet, I expect he'll be the next guy Bay and Daphne are fighting over.
Just to give everyone a little something else to argue about and show how deeply divided they are, Nikki wanted to have a sweet, family-oriented dinner with extra funds going to charity and Kathryn was actually offended. It turned into another family dinner smack down that went even farther astray when John suggested Regina's addiction wasn't a disease. Whether that's what he believes or not, he shouldn't have brought it up during a family dinner.
Regina's decision to move out and stay with Angelo was a good idea. She needs space from the craziness they've become. Her not sharing it with Bay was true to form and very disappointing. Once again, the shiny daughter got the attention and even pushed Bay's birth mom out of her life, while stealing the woman who raised her. 
I was so happy that Bay went to Angelo's to confront Regina about not spending time with her, pointing out that Daphne and Kathryn have made a deep connection and it hadn't escaped her that something was missing between her and Regina. Regina said it was because of guilt at not going to get her all those years ago and that she had to pretend she didn't exist, so it was hard to reconcile that when they finally met.
I sure hope that's the case because I can't take Bay getting pummeled every week any longer. She deserves much better and that nobody in the family can see it is getting very old. I mean, even the coffee dude? Come on. With the two quasi sisters living apart and the birth families living together, might their finally be some redemption in their futures? 
Carissa Pavlica is the managing editor and a staff writer and critic for TV Fanatic. She's a member of the Critic's Choice Association, enjoys mentoring writers, conversing with cats, and passionately discussing the nuances of television and film with anyone who will listen. Follow her on Twitter and email her here at TV Fanatic.