Covert Affairs Review: Secrets Threaten Everything

Carla Day at .
When Covert Affairs first premiered - and then through the first two seasons - it was a lighthearted, fun spy show. There was risk and danger at times, but nothing that kept the viewer on the edge of his/her seat with worry for Annie or the other main characters.
That tone shifted in the transition from the second to third season. Annie got a gun, she killed someone and then last season, in the aftermath of Jai's killing, it got serious, dangerous and people died. 
The season four premiere, "Vamos," has entirely eliminated the lightheartedness (and the cheesy opening credits) of the show and shifted to focus on hardcore action, suspense and intrigue... with a touch of romance.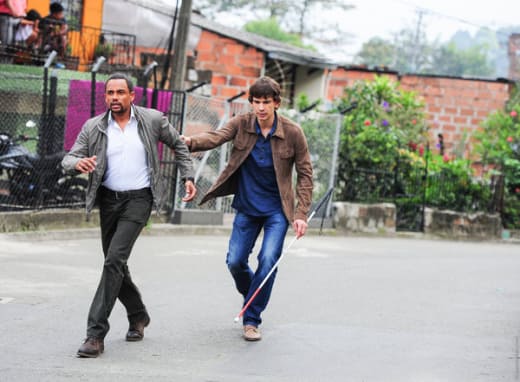 Covert Affairs has become the Bourne series of television through the its focus on character, brilliant use of foreign locations and the amazing visuals they provide that could never be achieved in Toronto or on a set.
In the season 3 finale, Annie met with Henry Wilcox at the diner where Jai was killed and he convinced her to work with him to expose Arthur's wrongs. It was difficult to believe that Annie would agree to work with the slimy Wilcox against either Arthur or Joan. Wilcox has never hidden his disdain for Arthur and would do whatever was necessary to bring down his rival. Despite knowing that, Annie appeared to partner up with Wilcox against her boss. Really, Annie's intentions are much more complicated.
Annie wants to know the truth and where does it get her? In 10 weeks, she's going up an elevator, pulling her gun and shooting while Calder Michaels is shooting back. Are they shooting at each other? And what brought them to that moment? Auggie suggested that it was Wilcox's fault, not Annie's.
The premiere provided the basis of the ongoing mystery and introduced two new intriguing characters to the mix. Calder Michaels, the Station Chief in Colombia, was not happy to have Annie and Auggie operating in his country without reading him in. Wilcox has stirred up trouble in Colombia that will have far-reaching consequences. Could Calder be working with Wilcox?
Even more intriguing is Teo Braga. He's not only the Puma, but he's Arthur's son. On the surface, the money transfers appear to be innocent monetary support for his only son. Given Teo's position in Colombia, the payments become suspect.
Whatever play Wilcox has in the works, he knows what he is doing. He called Auggie's clearance being pulled and Arthur's resignation. It's like he's a puppet master and knows all the right moves to make. Though, I don't trust that what we've been led to believe is the truth. There are too many secrets. Even though Auggie revealed Teo's identity as Arthur's son to Annie, he's holding out much more. What does Arthur know that put fear into Auggie's eyes at the Washington Mall?
It's unlikely that Arthur resigned because of an affair and much more probable that he used that to cover up the real reason. Perhaps, it has to do with the mysterious woman that he was working with. That was business not pleasure though. Who got cut off? Was it Teo? Or someone else?
Joan's absence at his resignation supports that as well. She needed to distance herself from her husband for her own career. With Arthur out, I hope he gets out there and does what he needs to clear his name. I don't see him being a stay-at-home dad.
There was so much at play in the first hour of the Covert Affairs Season 4, but there wasn't one single dull moment. This is all leading to Annie being in that elevator in 10 weeks? I'm not usually a fan of a jump forward and when I initially watched, I didn't like it. But, after watching the episode a few times, it's grown on me. The web between the characters has only just begun to be revealed and knowing that future moment raises the stakes and intrigue.
Now that Annie and Auggie are together romantically, their own secrets come with consequences. They trust each other as much as two spies possibly can, but in the end, will it be too much for them to stay together?
Why do you think Arthur resigned? Should Annie trust Wilcox? Or, side with Arthur and Auggie? Do you like the new characters: Teo and Calder?
Carla Day is a staff writer for TV Fanatic. Follow her on Twitter and on Google+.