Devious Maids has become my latest guilty pleasure.
Even though "Wiping Away the Past" started off a bit slow, we eventually learned numerous secrets that are sure to set the rest of the season spinning in motion.
For starters, Rosie found out that she means much more than just the help to Spence. I figured Spence would offer to assist her out of a bind when her lawyer called needing more time and money, but I didn't expect that he'd reveal any feelings whatsoever.
Rosie is soon going to find herself in bigger trouble as she's now keeping Spence's feelings under wrap while also staying hush, hush still after learning about Peri's affair.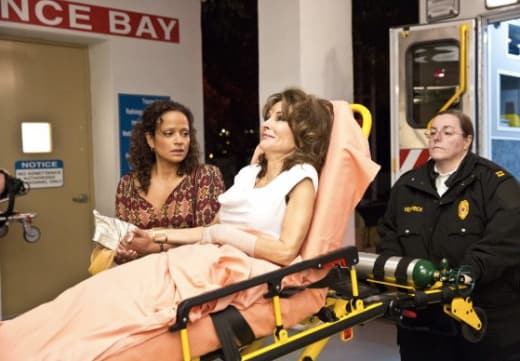 Meanwhile, I was disappointed in Carmen's storyline. She seems to be effortlessly losing herself. Like Sam, I no longer believe she is the girl I thought she was. I was honestly hoping that Carmen would teach that scumbag of a producer a thing or two by declining his offer, but it appeared that she's willing to do absolutely anything for a record deal. Here's to hoping that she wakes up quickly and realizes that she should kick him to the curb and simply be the fiery and spunky woman she truly is.
She's gorgeous and talented. Success can't be too far off ahead.
I also was a bit let down that Remi wanted to cool things down with Valentina. Granted, his intention was sincere and for mainly both of the teens' mothers, but I'm hoping they don't stop getting closer just so easily. Then again, Zoila's convincing Henri to visit his sister, Genevieve, was clearly not very innocent at all. Maybe Zoila will find a way to understand how her daughter feels once she feels that spark again when Henri arrives.
Finally, I know I've buried the lead, but I wanted to save the best for last. Thanks to Marisol's devious ways, we found out that Evelyn told Olivia that Taylor was once a prostitute. Adrian was actually the man who hired Taylor. Marisol convinced Evelyn to never speak of Taylor's previous employment by lying and saying that Michael still had lingering feelings for her.
When speaking to Taylor, Marisol learned that Adrian gives gifts, or actually women, to his friends through "intimate get-togethers". There's always a beautiful young woman, small talk and a lot of wine. From there, the woman suggests it's time to take the party upstairs.
The craziest part is Evelyn knows exactly what is going on and only considers it a disgusting habit. Disgustingly, Adrian watches his friend and his "gift" through a two-way mirror. Most importantly, it was revealed that Flora was also more than just a maid to Adrian. He's gross!
Other Thoughts:
Carmen reminds me so much of Eva Longoria's Gaby in Desperate Housewives. 
Genevieve really makes me laugh. That scene with her looking for Zoila in the neighborhood as she turned down the music was hilarious.
Hands down, Marisol is my favorite maid so far. Who's your top pick?