We had more Longworths than we knew what to do with tonight  on The Glades, as Jim's mom Joan joined the boys in Florida while Jim was investigating the death of the first professional female Jai Alai player on "Fast Ball."
Going into this episode, the most I knew about Jai Alai was that Miami Vice showed it being played during the opening credits. However, after the hour and a trip through Google and Wikipedia, I'm much more versed.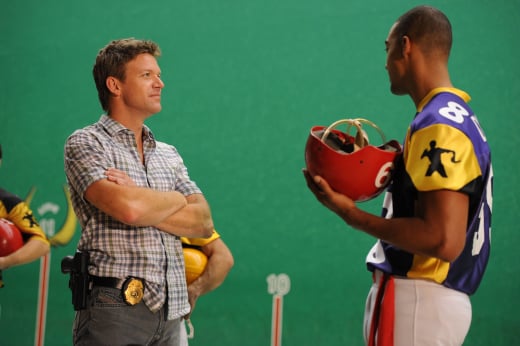 Allow me to commend The Glades for incorporating something that is distinctly Florida into the installment. I'm willing to be there were plenty of fans in that state who were thrilled to see the sport featured.
As for the murder, both my wife and I picked out the killer once they showed all three suspects. They still did a good job of making me second guess myself, but as they say with test taking, your first choice is usually the right one.
I also want to welcome Marilu Henner to the Longworth family as Joan. I recently asked who should play his mom and I almost picked Henner - but then opted for Jean Smart. Henner did a great job as Joan, I couldn't be happier with the choice.
Watching Jim freak out, fake a phone call and then leave when Joan started talking about moving to Florida was one of the funniest things I've seen on this show in a very long time. 
Additionally, the interaction between Joan and Michael as she took his glasses to look at the laptop and them both discussing what to look for in a condo was very touching and I was really hoping we would get a bit more of them together. 
Sadly, Joan and Michael quickly found a resolution were Michael may have decided to retire (but I wasn't sure). Thankfully, the confusion was cleared up by Jim and Callie at the end:
Callie: What just happened?
Jim: I think my dad just retired. 
I remember my college professor telling me that if I had to have characters explain something to the audience they just witnessed, then the scene was not written correctly and I should redo it.
I wish the ping-pong table conversation had been reworked. The whole interaction felt rushed and forced. Bersen and Henner are both amazing actors, so the glitch had to be in the writing. 
That said, in the end Joan and Michael did decide to invest in a time-share in Florida, so we can hope that they will be back for a visit. As they left, it wasn't clear to me if they were both heading to Rio to finish up Michael's business or if they were heading to Chicago. 
Either way, Joan's last comment about Jim calling is sister makes me curious about how many other Longworths are hiding out there. Do we have enough episodes left on The Glades Season 4 for them to introduce Jim's sister or are we going to have to wait another season? 
In conclusion, I'm giving the episode 4.3 pelotas (Jai Alai balls) for a decent Longworth reunion, I wanted a little more, but isn't that always the way with family.
Jim G. is a TV Fanatic Staff Writer. Follow him on Twitter.