The Vampire Diaries will be taking fans on a handful of adventures this fall.
First, as teased during yesterday's panel discussion, Caroline and Elena will be heading to college. And Caroline hopes someone else will be joining these freshmen at Whitmore University.
"She's pretty determined to get Tyler to college so they can finally be together since Klaus is gone," Candice Accola told an adoring crowd, adding of the challenges ahead for these coeds: "They can't get by with the same tricks that they did in Mystic Falls."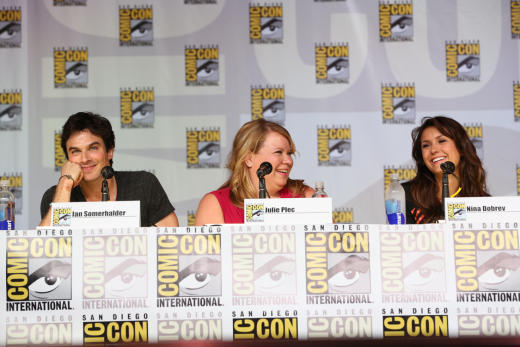 Second, Elena will be embarking on a honeymoon with Damon! Well... a honeymoon phase, that is.
"One of the things [we will try] to do is to try to keep [Delena] happy for a while in the midst of the bad things around them that are trying to tear them apart," Julie Plec said, while Ian Somerhalder said he was shocked Damon got the girl.
"Don't downplay the sexy blue eyes,' Paul Wesley replied. "Don't downplay the 'Smolderholder.'"
Third, Bonnie will struggle to accept the fact that she's, you know, dead.
"The only person she can communicate with is Jeremy," Kat Graham, while Plec added that "Bonnie's not going to realize that she sacrificed her own life" during the opening couple episodes, while Executive producer Caroline Dries chimed in and said we'll actually get "perspective of what the other side looks like."
Other topics addressed:
The show will hit its landmark 100th episode 11 installments in The Vampire Diaries Season 5, but Plec would not reveal her plans for it.
"It's not going to be good for her," Nina Dobrev said of Katherine's reaction to being human. Everything she's been doing, she's been hiding behind this faced and using vampirism as an advantage to get people to do what she wants, she's going to be [insecure]. It's going to take a lot of getting used to."
Damon and Jeremy will be roommates, considering Elena is off to college. Look for this to be a source of humor.
The Vampire Diaries Season 5 kicks off on Thursday, October 10.
Matt Richenthal is the Editor in Chief of TV Fanatic. Follow him on Twitter and on Google+.