Sex, sex and more sex.
The latest episode of True Blood gave our Round Table panelists - Chris O'Hara and Leigh Raines of TV Fanatic, Liz Henderson of True-Blood.net - plenty to discuss this week, especially of the naked variety. Which horizontal mambo was the most enticing?
How much will we miss Nora? Does Eric look better with long or short hair? Gather around and join in now!
-------------------------------------------
What was your favorite scene from the episode?
Chris: Pam getting her Freud on and taking us into her mind set behind the once glorious scene of Fangtasia. Her insights into human desire were great. It was vintage Pam once again.

Leigh: I have to say, I still love the shock everyone gets when Bill strolls into a room in broad daylight. Arlene was so wasted she thought she was hallucinating. Sookie's reaction was amazing and Lafayette with his beta blockers.

Liz: I had a few this time. I loved the scene with Sookie and Arlene at the cemetery. It was a tender gal-pal moment that I'd missed between the two. I loved when Bill walked into the Bellefleur place during the daylight. We saw season 1 Bill, the southern gentleman I loved. Nora's death, while gross, was a great showcase of Skarsgard's acting chops. And finally, The Great Escape by Eric and Nora. It was fun!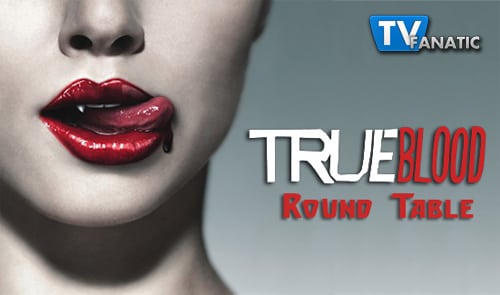 Hotter sex scene: Jessica and James, Sam and Nicole or Pam and her therapist?
Chris: Jessica and James without a doubt. James took the whole Dirty Dancing lift to another level and with his vampire speed can turn any outfit into a tear away ensemble. Sam and Nicole were "steamy," but shower encounters are never as hot as they seem on TV and film. Someone is always on the far side of the showerhead and cold. You end up knocking over shampoo bottles and razors or get a shower caddy to the head. As for Pam and Dr. Baldy McSweatervest? Please... I just ate.

Leigh: I think we're all voting for Jessica and James. I was disturbed to see Pam with anyone who wasn't a woman and her therapist just gives me the creeps. I'm now fast forwarding through Sam and Alcide scenes. Agree with Chris on the Dirty Dancing lift. Hasn't anyone seen Crazy Stupid Love? Works every time.

Liz: Jessica and James, because of all the emotion behind it. For all they know, these two are living in their final moments on this earth. And I like them together.
Pen a eulogy for Nora.
Chris: Forever proved impossible, but her death was her own.

Leigh: Eric's beautiful sister, you brought us a good character arc and were an enjoyable part of the show. Equal parts classy and bossy, you fit right in. As you requested, your death was your own and you ended as you began. RIP.

Liz: I'm so bad at this but here goes: Nora Gainesborough had a second chance at life, but in the end she was simply deflated.
Do you like Eric better with long hair or short hair?
Chris: Short hair for sure. Seeing him with a gun and disguised in the LAVTF gear took me back to the days Generation Kill.

Leigh: Mmm... Northman with short hair for sure. But now I'm thinking about True Blood Season 2 when Pam used to do his highlights and I'm cracking up. Remember when Lafayette was a prisoner and Eric got into his face "Do I have blood in my hair?"

Liz: Short hair by a long shot! At least it was a better wig than the one we first saw him wearing.
Arlene grieved with a can of PBR. In what drink do you prefer to drown sorrow?
Chris: Bless you, Arlene. While I'm a Tito's man, brown liquor always seems like the appropriate choice when drinking in sorrow. Just a bottle, a glass and the thoughts that haunt you.

Leigh: I'm a tequila girl, but sorrow does make me think you really need a strong glass of whiskey.

Liz: Just give me a nice glass of Merlot and call it good.