We've officially reached the final chapters of Devious Maids Season 1.
"Hanging the Drapes" kept things moving along as the maids continued to find themselves in particularly challenging and strange situations. Most importantly, we have a new person to add to the list of suspects who could have possibly killed Flora.
Before we get to that, let's break down what else happened...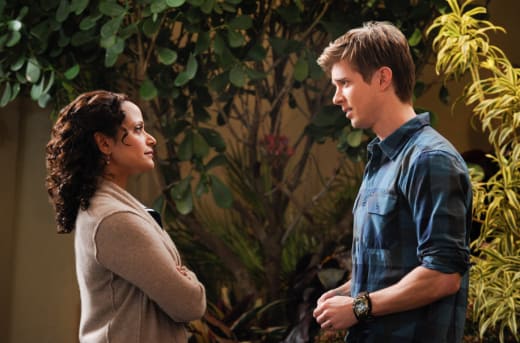 Adrian approached Rosie, wanting her assistance with entertaining one of his friends. Rosie wanted Spence to defend her honor; however, he proved that Peri was quite right in the fact that he is definitely kind of a pushover.
Eventually, Spence went over to Adrian's to teach him a lesson but ended up slipping and giving himself a concussion. How embarrassing! Poor Rosie, though, since she walked in on Spence and Peri in the midst of an intimate moment.
Meanwhile, Carmen was in a bit of a hairy bind as she struggled with a favor for Alejandro. I, too, must admit I was a bit disgusted with Alejandro's gross and bushy back. Yuck!
When Carmen and Alejandro had that touching moment, I was thinking these two should so get together. It's likely I should not get my hopes up, however, as Alejandro introduced his date to Carmen while also tell her that he was gay for the first time. I did not expect that at all.
Elsewhere, Valentina was worried about Remi's return from rehab as she expected that he'd be upset with her. Thankfully, she was wrong and he was actually entirely grateful.
Like Zoila, I thought that Remi's decision to ask her permission to date Valentina was smart. Dinner with the folks, though, was a bit complicated for Remi with Pablo's offensive jokes and then Valentina realizing that Remi knew hardly anything about her.
I'm glad that Zoila gave Valentina the opportunity to quit. I'm interested in seeing where Valentina and Remi's relationship goes and am also excited to see that she'll be starting school soon. There will be much more opportunities for storylines once she's outside of the house and Remi will no longer see her as the help.
All could go well for the love birds. That is, if Marisol finds out that Remi isn't really the one who killed Flora. Yes, Remi! Eddie revealed that he was dealing drugs with a friend named Brad, who told Marisol that Flora was dating Remi.
Could it be possible that Remi was the father of Flora's baby and also the one who killed her? I find this so hard to believe but it seems as though anything is possible in Beverly Hills.
Other Thoughts:
We rarely get to see much of Taylor and Michael, and I was so glad the couple found out they were expecting. I had a feeling Olivia would be hurt, but I had no idea she'd kill herself. This is going to really affect Taylor and Michael's marriage.
I don't know about you, but I am honestly so ready to just find out what happened to Flora. I still am not convinced it was Remi. That's just too obvious now, and why should we trust Brad?
The way that Adrian was talking to the Bulgarian maid was hilarious but so cruel. He really is just like his wife, Evelyn.
Be sure to check out our Devious Maids quotes section.