As Devious Maids gains momentum, I find myself longing for the days to go by even faster just for Sunday evenings to arrive.
Last week, Rosie found out about Marisol's secret. On "Missing the Baby," meanwhile, we picked up right away with Rosie already starting to work at the Powell's house. While she was on a mission to find out more about what happened to Flora, she had to bring along Spence and Peri's baby boy.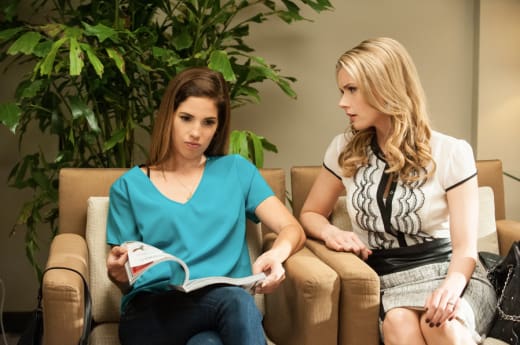 Evelyn took Tucker out for much longer than intended and pushed Rosie to quit on her. Eventually, Rosie changed her mind after Evelyn apologized and then saw the missing Flora DVD hidden in the safe.
I'm going to bet that Evelyn's continued obsession with Tucker will be a major issue. 
Meanwhile, Genevieve found her potential husband number-seven in a blind billionaire. The only problem was that she had to tell a slightly white lie about her age. She also needed both Zoila and Valentina to keep quiet as well.
Unfortunately, Zoila "accidentally" spilled the beans. I know Zoila means well, but sometimes I think I find her demeanor a bit annoying. It was almost as if she intentionally revealed Genevieve's secret. I'm just not sure it was really her business and am just glad that Valentina makes up for her mother's mishaps.
The only major concern with Genevieve's arrangement is that Valentina's eggs are on the line now. What's her mother going to say? Heck, what will Valentina say?
Elsewhere, Carmen found out that Odessa has cancer. Regardless of their differences, it was nice to see Carmen try to reach out and help Odessa out of some sticky situations with Alejandro. Thanks to a special brownie, Odessa shared a special part of who she was as the two grew closer.
One thing I have really liked is Taylor and Marisol's growing friendship. I especially thought it was great of Marisol to go to the fertility clinic with Taylor.
Other Thoughts:
I get that the cast is big, but I also find it a little odd each week when a number of the characters are missing.
What do you think is on the final Flora DVD that Rosie found? Is this the missing piece needed for Eddie's case?
Evelyn stole the show this week some remarkable lines. Be sure to check out our Devious Maids quotes section for a reminder of why she is such a brilliant and cruel person.