"No One Mourns the Wicked" was a wickedly dark episode of Rizzoli & Isles that centered around the psychology of serial killers.
There were so many fascinating facts thrown out during the hour. 70% of serial killers were abused as children. 60% have some sort of brain damage. Most are of average intelligence. They are often substance abusers and female serial killers usually work in teams.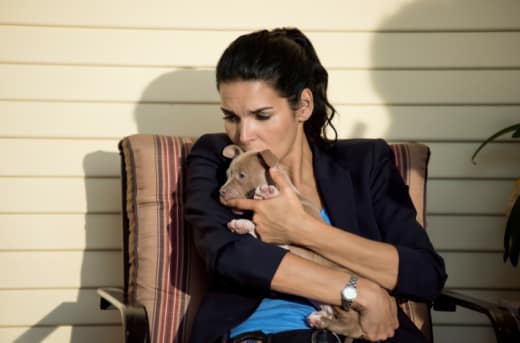 But all of that intriguing information didn't hold a candle to the diabolical killers included in this story.  
First we got to revisit the thankfully-deceased Charles Hoyt, the man who not only tortured and killed numerous woman but tortured and tried to murder Jane on more than one occasion. 
Speaking of Jane, I'd be shocked if the poor woman wasn't suffering from some form of PTSD given all she's been through. And I was never so relieved as when Frankie and Angela showed up on her doorstep. The Rizzoli family may have it's occasional flaws but they always stick together. Plus, Angela bringing a lasagna more than made up for Frankie raiding the beer in the fridge. 
As creepy as it was to see Hoyt again, Dr. Victoria Nolan might just surpass him for sheer wickedness.
I had figured early on that someone on her team was most likely the copy cat killer. When the newspaper article surfaced with a picture of a young blonde girl whose family had been brutally slain, I knew instantly that the girl was Dr. Nolan. 
That Victoria had been abused by her equally twisted parents seemed like fairly normal serial killer psychology, but it was her son that took the story to another level. 
The future Dr. Nolan gave birth to a son created via incest. He was taken away, only to have her find him five years later to teach him how to kill puppies. That type of cold, heartless evil was truly frightening.
I was so proud of Korsak in those final scenes. Despite having had his head slammed with a 2x4 and chained up in his own basement, the man never flinched... until he thought they were going to hurt one of his puppies. I've always loved Korsak but never quite as much as in that moment. 
As he explained his love of dogs in this Rizzoli & Isles quote…
Three wives and not one of them ever looked at me the way my dogs do. They think I'm the greatest man who ever lived. | permalink
Supposedly 4% of the population is either sociopaths or psychopaths. Thankfully not all of those are serial killers. Too bad Korsak was sharing his love of dogs with one that was.
Thankfully the hour ended on a much lighter note than it had begun as all of the friends celebrated life on Korsak's front porch by sharing drinks and cuddling puppies.  It doesn't get much better than that.
This was a difficult episode of Rizzoli & Isles to watch, mostly due to the tragic news this week concerning Lee Thompson Young's suicide. Young played series regular Det. Barry Frost and his death at 29 years of age is a tragedy. If you or someone you care about may be considering suicide, please ask a mental health professional in your area for help or find someone to talk to by contacting the National Suicide Prevention Lifeline. It can get better.
C. Orlando is a TV Fanatic Staff Writer. Follow her on Twitter.