"Chock Full O' Nuts" is probably the best way to describe this season of Royal Pains as it stands in its seventh installment of season 5.
From Hank having to juggle his undercover clinical trial with the Symphony merger to Divya navigating her new living situation and Paige and Evan getting into their first marital spat, this episode continued the trend of incompleteness that's haunted this season since the Royal Pains Season 5 premiere.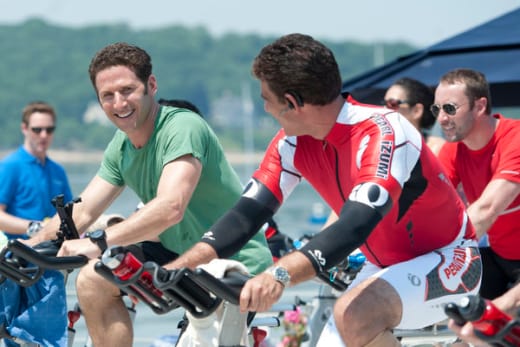 I really liked that the hour started out with Divya raiding Jeremiah's fridge. I almost thought for a second she was going to be drowning her pregnancy cravings in a carton of Ben & Jerry's or something. But, in true Divya fashion, she only wanted some tea.
A part of me wishes I could explain how much I really do adore the idea of Jeremiah and Divya. They have grown on me as a romantic possibility. The thing is, I'm not sure that Divya even still really fathoms that he's the slightest bit interested in her, let alone completely and stupidly in love. I mean, the minute Jeremiah took the bookend out of his bookshelf, a genius point on the part of the writers, I was like "He wants to marry Divya, he's pushed so far out of his comfort zone for her." Props to Mark Feuerstein for the way that scene was shot and played out.
You'll probably think I'm way ahead of the game, but the more the storyline trends towards these two getting closer together, I can see Divya and Jeremiah finally having a talk, or Evan somehow getting involved to make the thing move forward. It's exciting in the midst of Divya's pregnancy and the circumstances.
That said, did anyone catch that weird moment when Divya was super excited with Hank about her walk-in closet nursery? First of all, who owns a closet big enough to make a nursery out of? Second, did anyone else think the way she acted was completely out of character? So. Weird.
Another thing I thought was interesting was the fact that Hank was so gung-ho about the merger with Symphony. Not only was he on board, he hired Ken and yelled at him and Shelby Shackleford to come up with a deal. Of course, they also shacked up in the process. But apparently the only thing important was that they came up with a reasonable agreement.
Point is, doesn't the fact HankMed has officially joined Symphony cancel out Evan's run for public office? If they sign on to work in the confines of the hospital, they don't have to rely on the zoning laws that caused them to cross paths with Blythe Ballard in the first place? Way to leave that unaddressed.
The redeeming part of this reality is that it allowed Evan and Paige to have their first marital spat over a pricy piece of art, which did more for individual character growth than a campaign rally could have ever done. Paige and Evan really do have a marriage one might wish to aspire after. I love that Evan went and bought the piece back for Paige.
What I did not love about this episode was the fact that this whole Boris/Milosh business is still lurking around in the background. And now next week Hank is going to be in the crosshairs of a seemingly rogue Russian? Not sure how I feel about that, or how qualified Hank even is to be dealing with something of that nature. This plot line really is starting to get weird and overdone. But, alas, we have no choice but to have it dominate the upcoming installment.
What was your favorite part of this week's episode? Is the Divya/Jeremiah relationship growing on you?
C. Charles is a TV Fanatic Staff Writer. Follow her on Twitter.