Welcome back, Grey's Anatomy fans! Just like every summer, I've been counting down the days for the most wonderful time of the year and it's finally here. Our fall television shows have returned and our favorite doctors are back.
Tonight, Grey's Anatomy hit a milestone by kicking off its 10th season with a two-hour premiere that was in true Shonda-fashion being dramatic, emotional and riveting.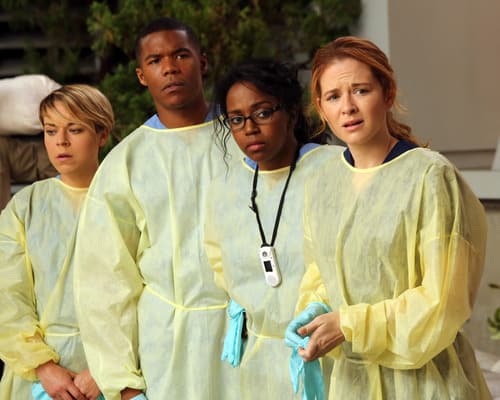 We were left with a number of questions following "Perfect Storm." From wondering if Meredith's baby was okay to pondering if Webber made it out alive, "Seal Our Fate" brought these lingering questions to the forefront and featured the doctors facing the devastation left by the storm.
With Webber narrating, there was more reason to worry for his well being. Things grew even more intense when Heather tried rushing to his side but was also electrocuted and suffered massive head trauma. It was no wonder Shane was feeling guilty, as he was the one who sent Heather to go find Webber in the first place. I really liked him before and can't help but be kind of mad at him now.
Thank goodness Cristina showed up as her badass self and bought Webber more time by successfully performing a risky procedure. However, there just wasn't enough of it. Webber required additional emergency surgery and the decision to move forward was made by Meredith, who was designated as Webber's medical power of attorney.
Heartfelt stories were aplenty when a giant mudslide injured a number of patients and first responders.
Elsewhere, the doctors had their own drama. I was shocked when Callie announced that Arizona had cheated on her. Then, my favorite new couple, Jolex, just couldn't move forward in the on-call room. Also, April realized that she wanted Jackson back. Overall, it was a crazy hour with so much going on all at the same time.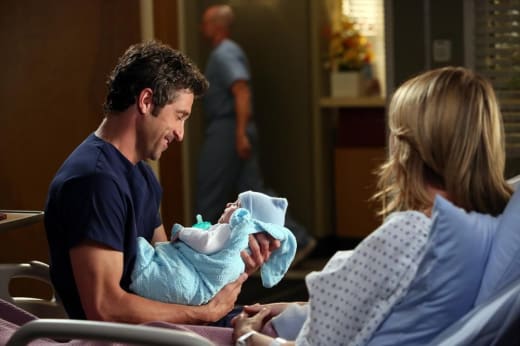 The second hour, "I Want You with Me," opened with the doctors continuing to fight to save Webber's and Heather's lives. Catherine Avery showed up and wasn't too pleased that Bailey was opening Webber back up again. She screamed at the top of her lungs and while his vitals worsened, Bailey made the decision to close him back up before she could find the root cause.
Luckily, Meredith later decided that the risk was worth taking and wanted Bailey to give her best shot one last time. This time around, Bailey saved Richard's life and found the damaged tissue in Webber's pancreas. Bailey is still awesome and I loved that Meredith was willing to reconsider.
Unfortunately, Heather wasn't so lucky. While Derek did all that he could, it just wasn't enough. We knew so little about Heather and this showed even more as the other interns tried to think of nice things to say about her to her mother.
One thing I will certainly miss about Heather is her quirkiness. With her death, it's clear that the other interns will grow closer and we'll continue to learn more about them. Last season, I didn't care to learn too much about this new group, but my mind is slowly changing.
Meanwhile, Cristina and Owen couldn't seem to keep their hands off one another as they continued to try one-upping their last special memory. Are you rooting for these two to get back together or will they eventually end up apart?
Calzona's future is also in question. Callie and Sofia are staying at the dream house because Callie simply needs a break from Arizona. For the time being, they will take turns taking care of Sofia. Look, I get that Arizona knows she messed up big time and is sorry but I think it's way too soon for Callie to just forgive her.
Arizona needs to give Callie some real space and let her have time to think things over. Do you think that Callie will ever be able to forgive Arizona?
Lastly, I was really glad that Jackson was totally blunt with April and told her exactly how he felt about her wanting him only when she thought she was going to lose him. I didn't expect for April to propose to Matthew right away, and am not so sure their relationship is going to stick. I was never a fan of Japril, but Matthew seems like a really nice guy.
Other Thoughts:
Chaos was at the forefront, but I was stoked to see that the McBaby was perfectly fine. I loved seeing Auntie Cristina snap pictures of the new baby boy and Meredith calm Alex down by having him hold baby Derek.
Did you catch all of the mentions of the former characters including Mark, Izzie and George? I miss them all.
Don't forget to check out the typical memorable Grey's Anatomy quotes.
All in all, I thought the two-part opener was solid and am stoked to see what the writers have up their sleeves for Grey's Anatomy Season 10. Like always, Shonda and company know how to keep us captivated and always wanting more. Share your thoughts in the comments below!