CBS is poised to add a compelling and convincing political thriller to its already diverse primetime roster this fall.
Hostages delivered a gripping pilot that didn't let go until after the credits rolled.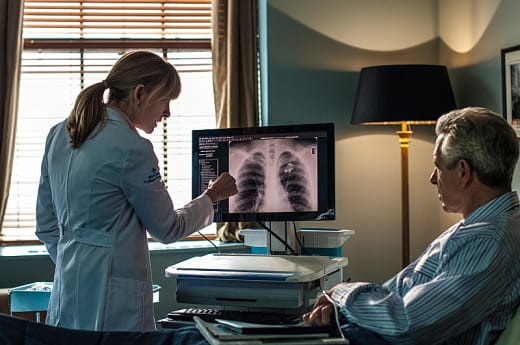 There are a few things I really liked about this opening installment. The first had to do with character introduction. We meet Ellen Sanders during a press conference regarding the President's surgery, her husband at work, her son at lacrosse practice and her daughter home after school.
Yet even as we were introduced to them, we also learned some of their secrets. We saw Jake being publicly called out in front of the lacrosse team for gobs of cash found in his locker, only to learn later it was actually drug money. When we met Morgan, something didn't quite seem right about her either, and it wasn't long until we found out she's pregnant. It didn't take too much of a stretch to believe that her husband was hiding something, too: infidelity. Now that they've all been taken hostage together, it won't be long until the all of their untruths are discovered.
I wonder, though, does our female protagonist happen to have any skeletons in her closet? 
I'm also interested in finding out a little bit more about Duncan Carlisle. He's a father, husband and apparently a very adept FBI agent who is either not afraid to take risks or has killer instincts. Either way, he's clearly got a lot at stake here and I'm willing to bet it has something to do with his wife in the hospital. I really like this complicated character. And while he promotes making his captives fear him, he clearly stepped out of those bounds when he grabbed the pregnancy test out of Morgan's hand in an attempt to keep her secret. The action changed my whole perspective on him.
Anyone else curious to learn what role the grandfather has to play in this? It's interesting that we don't quite know whether he's Duncan's father or his wife Nina's father. I highlight this because I predict a long line of manipulation that draws back to Duncan's comment to Ellen: "Don't think of it as killing the President, think of it as saving your family." That's clearly the core psyche each character entangled in this plot is approaching the situation with. 
Of course, there is clearly an exception somewhere along this line, and that's with the person who originally orchestrated the plot. Was I the only one who suspected the President's right-hand man from the second we saw him in the limo? And, as if by magic, he ended up being the exact person we saw on the phone with the grandfather figure - and it all likely trickles down from there.
The big question is: Why?
Why Ellen Sanders? Why Duncan Carlisle? Why does the President need to die?
Those are the queries this opening season will be tasked with answering. Now that Ellen has taken action to postpone the surgery, not only has she proven that she's willing to put up a fight, she's bought herself time to figure out what's really going on here. She's also proved that Carlisle and company haven't quite thought of everything like he claimed they did. Will she ever figure out the truth?
I will definitely be tuning in this season. Will you?
C. Charles is a TV Fanatic Staff Writer. Follow her on Twitter.