How I Met Your Mother Review: Mouth, Words, Memories, Times

Chris O'Hara at .
Fearing the flame would go out on their sex life once married, Barney and Robin searched for one last place to let their freak flag fly on How I Met Your Mother this week.
But standing in their way was a shuttle bus-load of elderly relatives. There was a lot of talk  about family on "Last Time in New York," but no one showed the lengths one will go to for a loved one like James did when he sacrificed himself and engaged his relatives.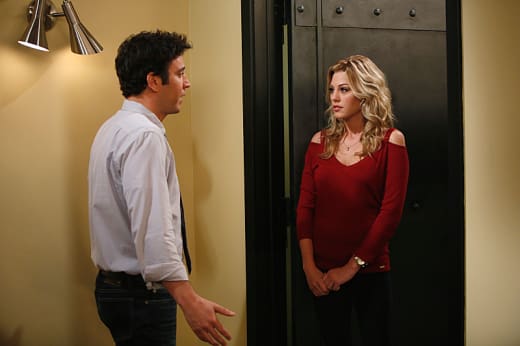 Barney: You avoiding the family too?
James: I'm gay, I'm black and I'm getting a divorce. Those walking skeletons are gonna have more questions for me than their pharmacists. | permalink
R-Train and B-Nasty we great together as they debated possible places to sneak off to that wouldn't attract old people.  Seeing their interaction left little doubt that these two are a great match. There probably isn't much those two have not seen or tried in the bedroom, but even they shuddered after walking in on Robin's grandparents. 
Robin: I can't believe my great grandparents still do that
Barney: And I never imagined a walker being used for anything other than walking. | permalink
Speaking of couples who have stood the test of time, Marshall and Lily spent another episode apart. Helping me get past this was the scene where Marshal, dressed in his Viking jersey, screamed out the truck window while driving through the home state of the rival Green Bay Packers. 
I love The Princess Bride as much as anyone, but the episode cut a bit too much from reality, as the famous duel between Inigo Montoya and the Man in Black was acted out. Robin is a huge Scotch drinker, she would never try to pass that concoction off to Ted and the guys. The part where she actually poured herself a glass from the broken bottle was more appropriate. On the other side, Marshall and Ted didn't even try to fix the dress or devise a better story than passing it off on the dry cleaners. 
Ted's list of last things to do was a great opportunity for some memorable flashbacks, but what we got was rather flat and forgettable. Linus must have been pouring Lily some weaker drinks because she was wise as ever while giving Ted one last life lesson. Of course, the tender sentiment she created was quickly shattered as was the new bottle of Scotch as Barney announced that he had seen Ted and Robin at the carousel. 
Barney seems to be in such a good place right now, though, that I don't foresee him being too angry. I do think that we could be in for one last Barney prank before the big day. Let's hope so at least. What do you think?