With David Tate behind bars and Gus dead, the partnership between Sonya and Marco was over. 
Marco grieved by drinking too much, sleeping in Gus' bed and pushing Sonya away. He had nothing left and no one to support him since Alma left with the girls. What brought him back to life? It was "All About Eva."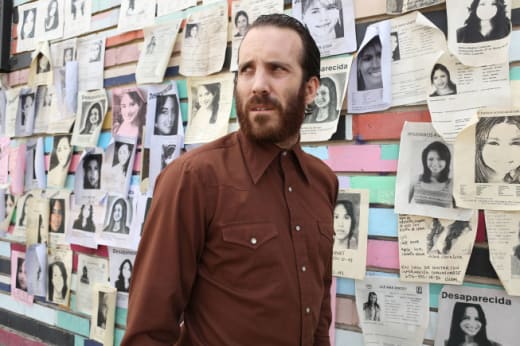 Sonya's initial approach to pull Marco out of his stupor was unsuccessful, but after meeting with Linder she had something that could give Marco's life purpose again. Eva's disappearance brought the story full circle to where it began -- the search for missing Juarez girls. 
Even though Linder was a person of interest in the Bridge killing, he didn't hesitate to go to Sonya when he needed help finding Eva. That decision could be the difference between him finding her alive, dead, or never. He cares deeply for Eva and continued his own search as well.
When he placed Eva's picture on what I'm calling the Wall of Missing Girls, it was eye-opening. All those missing girls brought tears to my eyes. It's a tragic story. It also was an abrupt reminder of why Marco and Sonya started working together in the first place. And, even more shocking was the group of women that Linder joined to search for girls buried in the ground. The police are no help, so they have to search on their own. Heartbreaking!
David Tate put the two half bodies on the bridge to draw attention to all those missing girls. He wanted to investigate those disappearances when he was at the FBI, but his request was denied. With Tate in custody and Eva's disappearance, will they look into finding the Beast?
Sonya finally got through to Marco. He shaved his beard and went back to work though unofficially. If anyone can help him through his grief, it's Sonya. She knows from experience what it's like to lose someone. Her advice about making the bed was touching. And, when he actually followed her advice my heart broke. He did listen to her and was letting her in.
The mystery behind the missing girls appears to be rather complicated and not the making of just one person or group. Eva was originally taken by the Man in the Car with Texas Plates. Is he the Beast? I'm guessing he's not since Eva was able to get away and wasn't killed. The secret is deeper than that and one that's not talked about.
When Eva went to the police to report her kidnapping, she was taken again and gang raped at a party. It was devastating to see what happened to her. I have to commend the director and editor for the way they portrayed that scene. Eva's abuse and torture was displayed in as tasteful a manner as probably was possible. It wasn't gratuitous at all. It was possible to feel her pain and torment without being over the top.
When Celia showed up to see Marco the truth started to come out. She saw Eva at the police station and knows more about what's going on than she's said before. Marco didn't appear surprised by this at all either. Could Captain Robles be involved? There was definitely some shading happenings shown in the earlier episodes of the season.
With Tate arrested, will the mystery of the Beast and the missing girls be the investigation that carries over into season 2? The Bridge has been renewed and will be back next summer. It would be a realistic way to keep Sonya and Marco as partners. While Eva may be found in the finale, I doubt they would be able to solve the case so fast.
To keep the tradition going, I have to give a token mention to Charlotte and her tunnel. I'm still not sure what that has to do with the rest of the story that's being told. With only one episode left, it seems that Charlotte and the tunnel could well have been a thread that's been revealed in season 1 to be unraveled next season. Though, I wouldn't discount a jaw dropping moment that brings it all together in the finale.
Odds and Ends
Linder's feelings about Eva are kinda creepy, though may be what saves her. Would she marry him? 
Frye got out of the hospital, but he's still in a wheel chair. He's sober ... for now. Though, his temperament hasn't improved.
Sonya's grief over losing her truck and then the destroyed tape were difficult to watch. At least she was able to fix the tape and keep part of her sister alive.
Marco: Missing girl in Juarez. Oh my God. I have a little glass here. Let's empty the ocean with it.
Frye: My mighty twig and my berries are fine. Thank you.
Will Fausto and Charlotte's business arrangement go well? I doubt it. Though, where was Ray? And, what about all the dead bodies on the Mexico side of the tunnel?
Carla Day is a staff writer for TV Fanatic. Follow her on Twitter and on Google+.