What is David Tate's plan? 
The opening scene of his wife's death was heartbreaking to watch. It was easy to feel for him in that moment, but that quickly went away due to his more recent actions. He's killed plenty of people, including some that were close to him. He's tortured others, like Daniel Frye and Marco. But ... what is his endgame? 
With his love affair with Alma, he was taking Marco's wife away from him. I thought he might try to replace his family by winning Alma's heart, but that wasn't to be. Tate just used Alma to torture Marco with no regard for her at all.
Or did he? In "The Beetle," he may have put a grenade in her hands, but he willingly gave Marco the information necessary to save her and the girls. He didn't want to kill her. Her abduction was just the appetizer. Tate's plan is still a mystery.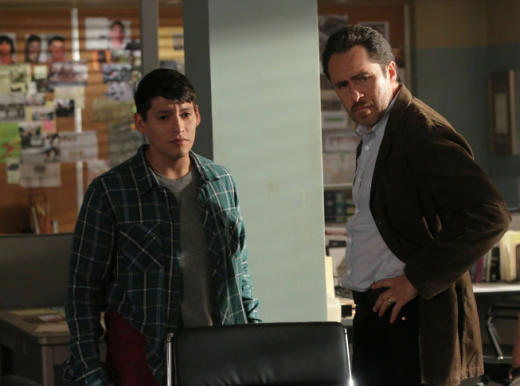 What is Tate's fascination with Gus? He hit Sonya's truck, but took Gus with him. Tate didn't want Alma as a replacement wife, but could he want Gus to be his replacement son? Or, has he manipulated Gus into being his protege? Or, want him to become that?
The big clue is that Gus said that Tate's texts helped him get closer to his father. What were those texts? During last week's "Vendetta," Marco pushed his son away and Gus told the story about leaving his bicycle in the street to get his father's attention. Has Marco done something recently to get his father's attention? Between the reveal about Alma and Tate working together and then the text messages, he appeared truly was surprised. So, he probably wasn't willingly working with Tate, but those texts and the advice are likely an important clue.
Sonya's going to be kicking herself for brushing Gus off and not taking his comments seriously. The teen appears to be at the center of Tate's plans to get revenge on Marco. And, those texts could be the clue to break the case wide open. With every step closer they get to Tate, the former FBI agent stays several moves ahead. He's going to be a difficult killer to find and capture. And, now they have to worry about Gus' safety as well.
As Marco said to Sonya, "It doesn't make sense." And, she agreed. There's something off about what's been going on.My guess is that it goes back to my theory that there are two killers and not just one. Marco said that when Tate was working for the FBI, he wanted investigations into all the killings in Juarez. If that's the case, it's unlikely he's committing those killings. He wanted to find the Beast.
He used his vendetta to draw attention to the very investigation he wanted to work under the FBI. Tate is definitely the Man on the Phone, but who is the Beast? If he's someone we have already met, my guess would be Hector. After being dismissed as the killer, the Linder story hasn't had any connection to the other storylines. When Linder found the human skin trophy on Hector, that would be a big clue that dead man could have been the Beast.
If it's not Hector, I'm still not sure who it could be. The pastor, perhaps? He admitted that he's killed before to Linder. Perhaps, he provides sanctuary to some girls and women in need, while killing others? That continues to be a mystery to be solved. Of course, it could always end up being Tate, but I doubt it.
With Hector's death and now that Charlotte has killed Graciela, a separate war is going to break out between Juarez and El Paso. It's about to get even more dangerous and deadly. And the FBI's trackers only make the situation worse.
Carla Day is a staff writer for TV Fanatic. Follow her on Twitter and on Google+.