The Vampire Diaries Spoilers: One Threesome, Two Deaths
Matt Richenthal at .
Simply put, The Vampire Diaries Season 5 premiere is filled with sex and death.
What else do you need to know, right?
Having seen an advanced copy of "I Know What You Did Last Summer," we're here to whet the appetites of TVD Fanatics via a handful of tidbits and teases. What are Damon and Elena up to? What role does Katherine play on the premiere? Has Stefan escaped from that water-filled safe just yet?
Consider yourself spoiler warned and scroll down for a few vague answers...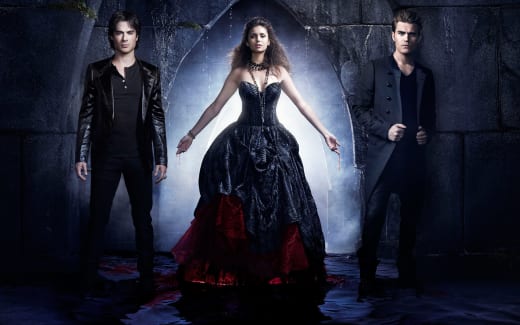 Following a three-month time jump, we quickly learn just what various characters have been up to all summer.
Damon and Elena are on VERY good terms.
Elena and Caroline receive a surprise on their first day of college.
One character engages in a threesome.
Stefan once again battles with his humanity.
Jeremy gets in trouble at school.
Katherine gets her drink on.
Elena gets an unexpected reminder of her father.
There is a car crash.
Two characters are killed, one of whom played a big role on The Vampire Diaries Season 4.
Who will meet his or her demise? Debate the possibilities in our Vampire Diaries forum and tune in for The Vampire Diaries Season 5 opener on October 3.
Matt Richenthal is the Editor in Chief of TV Fanatic. Follow him on Twitter and on Google+.