The anticipation was high for the premiere of Beauty and the Beast Season 2 - and we were treated to an excellent premiere episode with "Who Am I?," even if it could have been more aptly titled "Who Are YOU?" as Vincent has no recollection of the people he once loved.
The opener successfully reset some of the grievances from Beauty and the Beast Season 1 and should allow the characters to forge a new path, while still maintaining the things we enjoyed the most: intrigue, friendship and (especially) romance.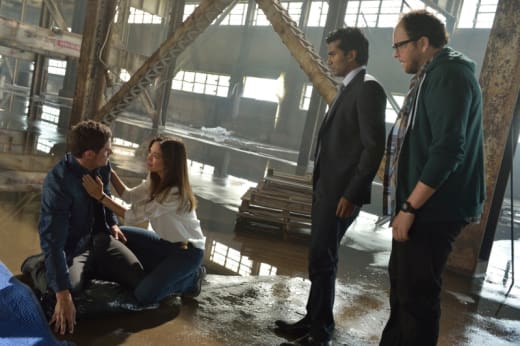 A lot has changed in the three months since Vincent has been swept away by helicopter. We can only begin to guess what happened to him while he was gone, so let's attack what we do know first:
Cat's dad never fully recovered and died a month prior to the events of the premiere. Heather has still been harboring the secret she learned about she and Cat not sharing the same father, allowing Cat to grieve the loss of her dad once and will, apparently, let her do it again when she tells her the news later on down the line. 
That seems a little bit harsh. Surely Heather has had some time to drag Cat aside and tell her. The premise seems to be that Cat has been too busy to bother with her sister while she searched for Vincent. That is probably my one issue with the resetting - Cat wouldn't have stopped caring about her family to focus solely on Vincent. She lost her father; that's a big deal. She would have found some time for Heather.
Cat was able to revive Gabe after he was killed, which somehow killed the beast in him. They brushed over that secondary information rather quickly, but there seems to be hope that the beast within Vincent can be killed, as well. Or, at least he could have been before they found him in the state he's in now. 
Gabe has taken over Joe's position at the precinct and he's the man in charge. Joe's obsession with finding his brother's killer was apparently is downfall, which left a job open for Gabe and cleared the romantic entanglement that didn't feel right with Tess. Tess needed to breathe and find a man of her own, not carry on an affair with a married one. Good riddance, Joe!
Gabe has been trying to do his job and help Cat and J.T. find Vincent. Of course he has turned sides and become a good guy; we never really doubted it, did we? Now he has the knowledge of what a beast can do, but without the urges to turn himself. He can be a great ally for the cause.
That essentially leaves us with Vincent. And VinCat. We saw Cat's birth father was the man who took Vincent away, and he seems to have enhanced and reprogrammed him. How he accomplished that is unclear. When we caught up with Vincent, he was in the hands of Li Zhao, the mastermind behind the beasts. He did not know how far Vincent had come and believed he had the upper hand. The new, improved Vincent discredited him in short order.
Not only has Vincent lost his scar, he's lost the ability to heal himself, recognize himself and recall his past. His "skills" are notably improved. He's faster, stronger and his senses are extremely heightened. The changes make his vision alteration seem like a drop in the ocean.
One thing seems not to have changed, and that is his instinct to protect Cat above all else. Despite working for Cat's father (who Vincent recognizes as "Condor"), he allowed Li Zhao to escape when Cat's life was in danger. He saved her life first. That's when Cat knew things would be alright - they are meant to be together. Somehow, even without an understanding of himself or his past, Vincent seems intrigued by this "smokin' hot" woman in front of him and he has lost the inhibitions the old Vincent had when it came to getting close with the opposite sex.
VinCat shared their first kiss - again - receiving an animal-like grunt of approval from Vincent, and Cat finally crumbled in relief at having him back in her life. She doesn't need him to remember her because her faith in their love goes beyond everything else. Any doubts she had before are gone. She is willing to wait for Vincent and believe in him, and it's obvious he's interested. 
Cat: Bright side: In the meantime, we get to fall in love with each other all over again.
Vincent: What makes you so sure we will?
Cat: Cause we don't have a choice. I told you - we're meant to be.
Vincent: You really believe that, don't you?
Cat: I do. And you do, too. You just don't remember it yet. | permalink
Inspired thoughts:
For the first time, J.T. was frightened of Vincent. That was a sobering thought. He had been concerned about Cat's safety in the past, but seeing him break a sweat when facing Vincent on his own was upsetting.
With Tess a free agent, and two hot, eligible bachelors on the table (I'm talking about J.T. and Gabe!), who would you most like to see her dabble with? Her chemistry with J.T. last season was undeniable, right?
Cat's father seems to know everything about her life - at least enough to keep her and her friends safe while still engaging Vincent. How long do you think that will last?
VinCat's kiss wasn't quite what we were used to by last season's standards, but with that little grunt we heard, can you even imagine the heat and tingles they'll be throwing down the first time something more passionate comes across our screens?
Did you think Vincent's jumping from a tree near Li Zhao's mauling meant his being the killer was a foregone conclusion, or was it a red herring?
What changes are you most pleased with and what are you most looking forward to as the season unfolds? Let's get a good discussion going! Welcome back Beauty and the Beast, you were missed!
Carissa Pavlica is the managing editor and a staff writer for TV Fanatic. Follow her on Twitter.