Just because something is not true, doesn't make it a lie. As "The Truth About Lying" shows, when every moment of our lives is posted online, perception can quickly become reality.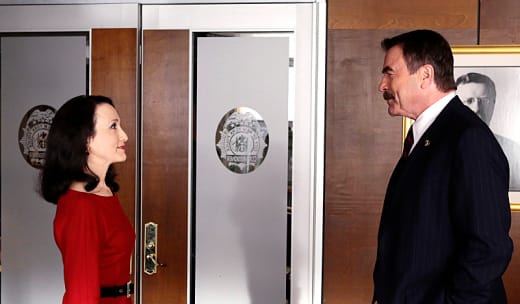 The first incident was Danny's murder case, which wasn't a murder at all. But it was hard to determine that fact from the video. It truly looked as though the Hulk was throwing Amy in front of that train.  But my fear of Bernard quickly turned to sympathy as the huge man with mental illness could barely communicate that he was trying to save the young girl who had always been nice to him.
Unfortunately, when Amy's own brother turned on her, she couldn't figure out how to go on. I couldn't help but feel sorry for Amy's parents who not only lost one child to suicide but would have to live with the knowledge the other sibling had driven her to it. 
Jamie's partner was an interesting case. I kept wondering why she wasn't telling the truth about the arrest. It took me a while to figure out that her memory of the incident was unclear. 
I can't even imagine trying to remember the small details under that kind of stress but that's what cops are tasked with every day. 
And it made for some interesting dinner conversation at the Reagan table. 
I was a little surprised at Erin's insistence that the cop be fired. The guy not only stole the phone but also tried to assault the officer with a pipe. But Erin was adamant that one omission from her statement should mean her dismissal. 
It was quite the revelation when Jamie took sides with the cops instead of the lawyers. He shared his revelation in this Blue Bloods quote…
Jamie: After being in the streets every day. It's not always black and white. | permalink
That's quite an admission from the previously idealist Harvard attorney. 
It appeared everyone was having a difficult week as Frank had to meet the new Inspector General. I liked Bebe Neuwirth's as Kelly Peterson from the very first scene. It's about time someone pointed out how tall Tom Selleck is…
Kelly: Of course if we were face to face I'd have to climb up on that desk but this will do. | permalink
Kelly was tough but also willing to go through the training simulator when the Commissioner asked and even reverse her original decision. 
I hope we see more of Frank and Kelly. They're both smart, tough and fair. I'd like to see them go toe to toe more often both personally and professionally. 
So were you happy that Jamie's partner was saved and would you like to see more of Kelly Peterson on this season of Blue Bloods?
C. Orlando is a TV Fanatic Staff Writer. Follow her on Twitter.