Covert Affairs Preview: The Dangerous Quest to Bring Down Henry

Carla Day at .
Covert Affairs killed off its main character in the summer finale. Yes, Annie's dead. Not literally, of course.
When Covert Affairs season 4 returns for its final six episodes tomorrow night on USA,  it's a changed game. Annie's hair isn't the only thing that gets darker. She's no longer the sweet agent that we first met in Season 1. She's dangerous, has no sense of control and is willing to go to extremes in order to find out the truth. Expect the unexpected both with Annie and back at the CIA.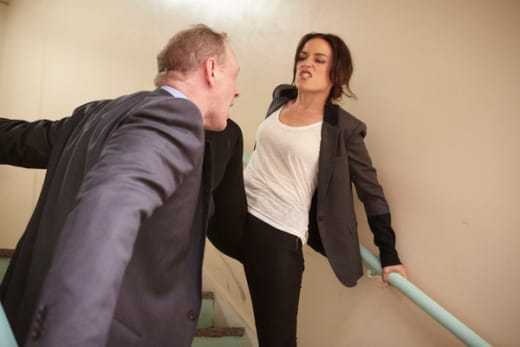 Can't wait for the return of Annie Walker Jessica Matthews? Check out a few teases about the season 4.5 premiere:
Annie looks good as a brunette and even better riding a motorcycle.
Keep your enemies close. That philosophy is embraced by more than one party.
More than one person is aware of Annie's fake death, while other's grieve and are angry over her death. 
Auggie puts his focus on one goal with an unexpected confidant.
Arthur's future is at risk due to his activities involving Teo.
Annie must have gotten an "A" in chemistry class.
Someone dies.
At one point Annie says, "I'm already dead."
Annie's decision to go dark and into deep undercover isn't without a cost. She's isolated from everyone she knows and loves in the quest to uncover the truth about Henry Wilcox. She's more determined than ever to get the job done no matter the personal sacrifice.
The investigation into Henry's plan is a two-front attack with Annie approaching it on her own from one direction, while those she's left behind look for answers of their own. These parallel tracks are both intense and full of personal risk. Prepare yourself for a whirlwind ride.
Covert Affairs picks up the story in the season 4.5 premiere, "Dead," on Thursday, October 17 at 10 p.m. ET on USA. Visit TV Fanatic immediately afterward for my detailed recap and review.
Carla Day is a staff writer for TV Fanatic. Follow her on Twitter and on Google+.