How I Met Your Mother Review: Lone Wolves

Chris O'Hara at . Updated at .
Another How I Met Your Mother episode has come and gone without an appearance of the mother.  
The countdown to the wedding continued, but the focus switched to Marshall and Lily, as the road warrior had to call in some favors from his friends to try and keep Lily from reading Daphne's text.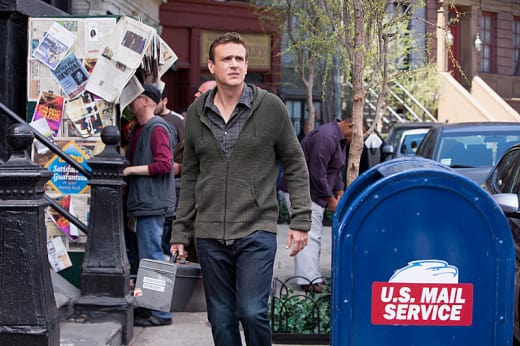 How I Met Your Mother Season 9 Episode 7 started off slow, with the reenactment of the ghost in Room 13 falling flat.
From there, though, we got some pretty good stuff when Ted, Barney and Robin were called into action to settle their debt to Marshall. The flashback of when Robin called Marshall for a favor was my favorite.
The whole Night Falcon scene was so absurd, I had to laugh, as Robin fell into Marshall's arms and ran away in that purple unitard. 
Robin ordering room service to Lily's room and sneaking in under the cart was also a great move. Barney's plan to make his way through the air ducts like the bad guy in Die Hard was my favorite strategy, however, as we were reminded about his odd take on movies.
The soon-to-be married couple struggled a bit with their lone wolf identities, but came to the realization that they could work just as well together once married.
Barney: We're gonna make a great team. We just need some practice.
Robin: Yeah let's prove that we believe in marriage by workin together to help Marshall hide something from his wife!
When it came to the actual execution of the mission, Ted calling in a No Questions Asked of his own with Lily, was a great twist. Marshall's flashback to some of the times he could have kept something from Lily was pretty good. My favorite of which was when he took apart the TV and made a robot.
I'm pretty sure there has been at least one time when Marshall has tried to sneak something past Lily, but you had to applaud his honesty tonight as he came clean about taking the new job.
Where I think he could have done better was how he made his confession. He definitely was sorry for taking the job without telling her, but he didn't leave much room for discussion about it. He told Lily they were staying in New York with an "and that's final" kind of tone, didn't he? 
Marshall's arrival will surely bring a hate storm down on the Farhamton Inn. Maybe Uncle Ted will take Marvin for a stroll while Mommy and Daddy sort things out and perhaps run into the mother when he does.