Once Upon a Time fans are in for a treat tonight.
The show's much-anticipated spinoff, Once Upon a Time in Wonderland, premieres on ABC and features the same enchanting elements that have made the original - also created by Wonderland producers Adam Horowitz and Edward Kitsis - such a network favorite.
In Wonderland, we're following the adventures of Alice (Sophie Lowe) as she looks for her beloved Cyrus (Peter Gadiot) with the help of The Knave Of Hearts (Michael Socha). Of course, there's The White Rabbit (wonderfully voiced by John Lithgow) to help along the way, as well as battles with the not-so-good Red Queen (Emma Rigby) and Jafar (Naveen Andrews).
We'll also meet Alice In Wonderland characters such as The Cheshire Cat (voiced by Keith David) and the Caterpillar (voiced by Iggy Pop).
TV Fanatic was on the Vancouver set last week with the cast and they filled us in on what we can expect when we drop in tonight on this unusual place...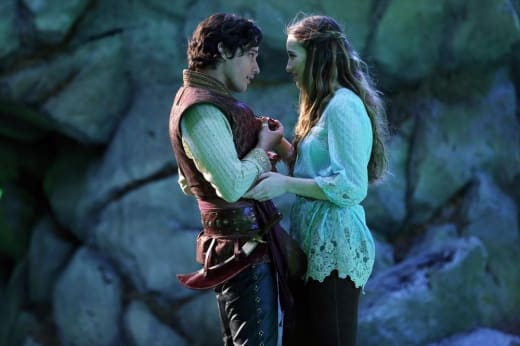 The romance to root for in Wonderland is between Alice and Cyrus even though, as you'll notice, The Knave Of Hearts is kinda cute, too. Will there be any sparks while the duo searches for Cyrus? "We're just friends," Lowe said of Alice and The Knave. "I feel like it's very rare in TV these days to have friends that are boys and girls, and it's really cool to have that."
Socha reiterated that Alice is "the Knave's only friend!" In fact, the actor said, his character has wronged just about everyone, so watch for lots of his enemies to pop up along the way to wreak havoc on his journey with Alice.
According to Rigby, we will find out what it is the Red Queen actually wants: "She's involved with Alice, Cyrus, all the other characters because she wants to ascertain something. She has a motive. It's not necessarily that she hates Alice or she wants to kill her. It's something else much grander and something that's never been done before that she wants to achieve." F
Flashbacks? Duh! We'll get to know about a lot of our characters and their pasts, including the villainous ones. "There are flashbacks with the Red Queen," Rigby said with a mischievous grin. "What they are, whether they're an origin, whether they're a forward, where we find those flashbacks, that's what the audience is going to discover within the episodes. That's a real fundamental part of the Red Queen." We'll also see some backstory with the Alice/Cyrus romance early on in the series.
Will love conquer all? Gadiot said that Cyrus's love for Alice will stay strong but will meet challenges. "I think ultimately there is a sense of overwhelming belief in their love." he explained. "However the circumstances and the forces against them are very dark and strong. I don't think he necessarily gives up hope, but he might choose, at certain stages, a path that he believes is better for Alice, a kind of self-sacrificing way."
Watch for The Red Queen and Jafar to be allies. "They need each other," Rigby said. "But they also don't trust each other. You've got to always watch your back. They know that without the power that they both have, they'll never ever move forward to get what they both want and what they both want is conflicting, but they also can correlate and help each other."
Yes, as you'll see in the early moments of the premiere, Alice kicks ass. "I did gymnastics for years, and I did dancing as well," said Lowe. "I never thought that it would be useful, because I didn't really enjoy gymnastics but now I'm doing all this stuff!"
They may both be genies but Cyrus and Jafar are quite different. "I think it's fair to say it's more tense, arch enemies," Gadiot said.
Think Alice and The Red Queen are polar opposites? Think again. "In a lot of ways we're very similar," teased Lowe. "Which I think will be revealed and be a surprise." So why all the conflict between them? "I think the Red Queen is very jealous of Alice and wants what she's got," the actress surmised.
Are you excited to take a trip to Wonderland? Leave a comment below and tell us what you're excited about with the new series.
Jim Halterman is the West Coast Editor of TV Fanatic and the owner of JimHalterman.com. Follow him on Twitter.