Ambitions: Brely Evans and Erica Page Share Their Exciting Journey So Far

Carissa Pavlica at .
Ambitions is the new OWN series that will satisfy your longing for all the escapist fun, debauchery, and bitchery you want from your primetime soaps.
Created by Jamey Giddens (The Rich and the Ruthless) and backed by Will Packer Productions (Girls Trip, Ride Along, Roots), Ambitions focuses on four families from distinct backgrounds in Atlanta and features a richly diverse cast that is still too rare on television.
During a recent set visit, we spoke with Brely Evans and Erica Page who both play bold, outspoken women on Ambitions who know what they want and aren't afraid to fight for it.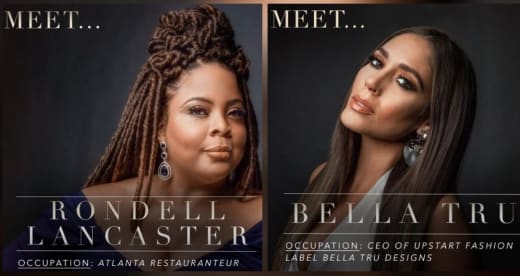 Evans stars as Rondell Lancaster, the sister of Atlanta Mayor Evan Lancaster (Brian White) and manager of the Thelma's Place restaurant. As the new face of an anti-gentrification campaign, she never thought she'd become a crusader for the people, but it's a badge she wears with pride – and nobody is removing it.
Erica Page plays the role of Bella (Tru) Trujillo, Atlanta's newest and trendiest fashion designer. She's the exclusive dress designer for First Lady Stephanie Lancaster (Robin Givens) but has set her sights much higher.
The two women have shared quite a journey of late as they both starred together on a show titled Last Call on Bounce TV before scoring their Ambitions roles. 
"We're blown away. Like how are we on two different networks at the same time? We're like, what is this energy? But we're going to keep it going," Evans laughed.
Creator and Showrunner Jamey Giddens Dishes on OWN's Ambitions
Both Evans and Page are very excited to be a part of Ambitions, something they knew from the very beginning.
Page almost quit acting in 2017, having given up on the hope that her carefully crafted vision board would have fruitful results. After taking a job in the mortgage industry, within one week of getting it, she received multiple signs from God that she shouldn't give up.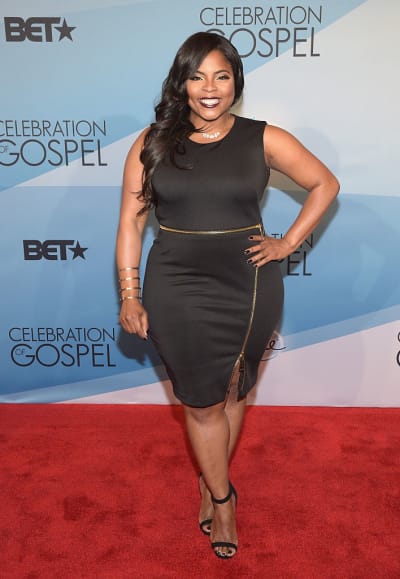 Heeding the signs, Page began booking multiple small projects, and landed her roles Last Call and Ambitions almost simultaneously.
On her vision board, she had both Will Packer Productions and Oprah for obvious reasons, "And I ended up booking a show that's produced by Will Packer that is on the OWN network, which is Oprah's network!"
Working for OWN, the actors get treated very well, and even better, "Will Packer shows his face, and he's here, and he's conversing with us and talking about character. He's talking about marketing and finding out what we do social-media wise," Evans shares.
With everyone so open characters suggestions of all kinds, they've created a stellar working environment on the new series.
But the working environment is only part of the equation for a successful television series. Rest assured, that's not all Evans and Page are excited about.
When she first the Ambitions pilot script, Page thought, "Oh my God, this is amazing, and I can't believe I'm going to be a part of it."
Queen Sugar Season 4 Episode 1 Review: Pleasure is Black
Evans knew straight away she was reading a role meant for her before she even got the full pilot.
"I know her because she's me, like outspoken, not afraid to give an opinion, and really doesn't give a [frak] about anybody who has something who opposes what she says because she really stands for the people." Evans has the same fire in her belly as Rondell and related to her character immediately.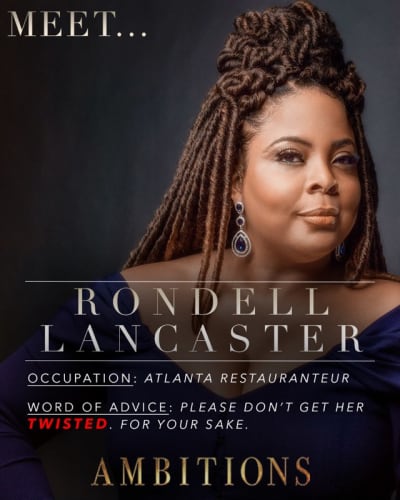 Bella excited Page because her Ambitions character, she felt typecast as the grumpy nurse or the reporter, and the "sexy" and "fashionable" Bella finally allowed her to do something different.
As she learned more about the character, Page admits she was shocked at how much she has in common with Bella even in terms of her upbringing, so she connected with her in a surprising number of ways.
While I'm reluctant to share too much about the excitement you're going to find with their characters, the term "spicy" gets used to describe the good fortune both characters have in on-screen relationships. 
Outspoken Rondell will be connected with a "true 'gentle' man who can come and soothe that raging fire" that burns inside of her, Evans teased, and viewers will want not only their glass of wine while watching, but a fan to wave away some of the smoldering heat!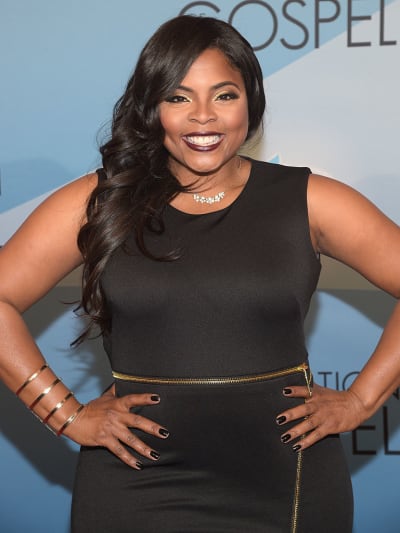 It might seem at first like Mayor Lancaster is selling out his community possibly making it difficult for him and his sister to get along, but Evans feels assured her on-screen family is tough enough to get through it.
"Rondell and Evan have been through a lot, so it's not going to break us up," she says as you will learn both characters want the same thing, but they're going about it in different ways. It's that kind of material that makes soaps worth watching!
Enjoy UNLIMITED access to thousands of Movies and TV shows with Amazon Prime Video
It doesn't sound like Evan is the most squeaky clean mayor Atlanta has ever seen, and there is a juicy storyline for Rondell as she gets mighty close to Evan's harshest critic who also happens to be aiding rising U.S. Attorney Amara (Essence Atkins) in taking him down.
Bella might not come off in a very positive light the first few times you encounter her, but Page knows in her heart, Bella is a good person. Before getting too far into the scripts, the writers assured her that what she instills in the character she portrays is just as important as what's on the page.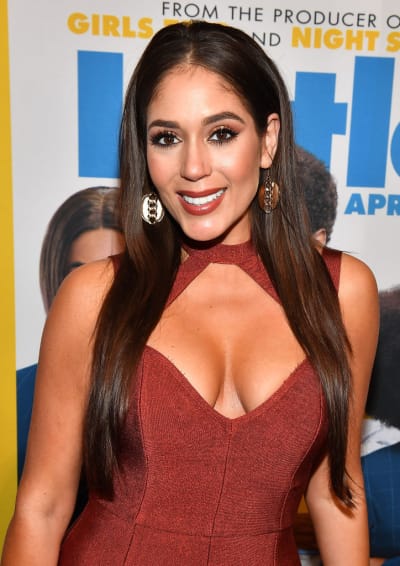 "Yes, she does some really stupid things, and she makes some really impulsive decisions that hurt people," Page says, "but at the end of the day, it all comes down to her baby and her company. She came from nothing, and she wants to make something of herself.
She is determined and wants to provide for her baby what she wasn't able to have growing up. She's going to do whatever it takes get her way, but as time goes on, you'll see that she does feel bad, and she does have remorse."
There are many layers her character, and the filter drops humanizing her as time progresses.
"This show has created whole people," Evans says, with characters who are not one-dimensional. It's something they have all come to love about working on the show. There will be someone for everyone to relate to and some viewers will relate to many.
I may not be up to sharing spoilers before the show has even premiered, but Evans says that standing at her kitchen counter reading what's upcoming makes her knees go weak, a feeling that reverberates through the entire cast.
Page is certain you have to watch Ambitions because while there are other shows out there like it right now, and you especially won't find anything that delivers it all in one sitting like Ambitions.
"It's sexy, and it's powerful, and it's intriguing. It's going to really reel you in and get your attention right away," she says.
"It has a real-life feeling to it, and then suddenly it's over the top," Evans agrees. "It's going to be one of those goodies," and you'll think you shouldn't be watching, but it will immediately become one of your favorite guilty pleasures.
--------------------------------------------------------------
Ambitions premieres on OWN Tuesday, June 18 at 10/9c. Keep reading TV Fanatic for more set-visit scoop from Essence Atkins, Robin Givens, Brian White, and Kendrick Cross!
Carissa Pavlica is the managing editor and a staff writer and critic for TV Fanatic. She's a member of the Critic's Choice Association, enjoys mentoring writers, conversing with cats, and passionately discussing the nuances of television and film with anyone who will listen. Follow her on Twitter and email her here at TV Fanatic.