The Originals: Charles Michael Davis on Being the "Life of the Party," Not Wearing Clothes, Flashing Back

Matt Richenthal at . Comments
Don't let the smile fool you.
Yes, Charles Michael Davis has one that could light up even the dark sky of New Oreleans, but the actor says his character on The Originals often uses this appearance to fool those around him.
Marcel is "fun and charismatic, he's the life of the party," Davis told me over the phone today. "But he's dangerous because he's the life of the party. It's a different kind of manipulation."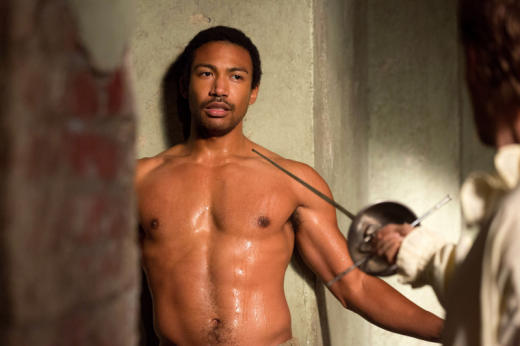 The actor says one of his favorite movies of all-time is Training Day, largely due to the menacing presence of Denzel Washington in one of the star's few villainous turns.
His character is "like the Devil," Davis said, but he's "always honest." And Davis sees a bit of Detective Alonzo Harris in Marcel. That is definitely not a good thing for those who try to get close to him.
"I played a charmer on Switched at Birth and someone really competitive on The Game," Davis said of what drew him to Marcel. "This seemed like a natural progression of those attributes, like the perfect combination."
He adds that Julie Plec describes Marcel as "sort of like a rocker, as having a Lenny Kravitz kind of vibe."
As for how he turned out that way? As for what else we can expect to learn about Marcel? Tomorrow night's "House of the Rising Son" will feature a flashback that "relates to Marcel and the Original family," Davis said, hesitant to reveal too much.
Look to learn more, though, about both Marcel's history with Klaus and company and also about his interactions with Davina, who Davis labels a "pivotal character" on The Originals.
Based on a few spoilers making their way around the Internet, along with a quick scene in this Originals Season 1 promo, it also appears as if Marcel has a romantic history with Claire Holt's Rebekah. Would Davis care to comment on that?
"There is a history, I can guarantee that," he said.
Does that history involve being clothed at all times?
"I can't guarantee that," he said with a laugh.
Matt Richenthal is the Editor in Chief of TV Fanatic. Follow him on Twitter and on Google+.