War has been declared on The Originals. The spoils? The city of New Orleans... The witch Davina... Power... Elijah's body. You know, typical vampire stuff. 
In the Battle of Elijah, Klaus and Rebekah are the victors. Sort of.
Davina's kind of the winner of everything and she's only 16. Maybe she's peaking early?
"Tangled Up in Blue" showed that Davina is the key to Marcel's power and is, obviously, the one thing Klaus wants more than anything. Even his own brother.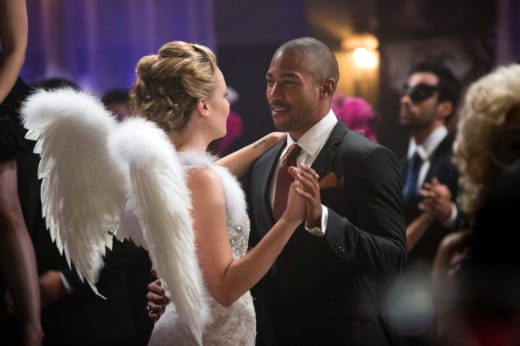 Even when Elijah is daggered in a coffin and dessicating, he still manages to make an impact. Photographs. Voiceovers. Whatever. He's there in spirit. 
Is it weird that fans would take the spirit and voice of Elijah over no Elijah at all? He's just that important. 
When Marcel refused to give Elijah's body back (sidenote: of course he would refuse, but Klaus "just had to ask"), Klaus and Rebekah declared war on Marcel. (As if they hadn't already done that two weeks ago?) That's where the fun began.
One of the things that is consistently making The Originals great to watch is how we're getting to see new sides to these characters. Their plan to infiltrate Marcel's inner circle even further was a work of art. Set up a vampire! Plant a spell! Kill a witch! The plan was mostly Klaus', and we do know he's diabolical, but Rebekah including Cami as a distraction was a stroke of genius.
In order to defeat Marcel, he has to become Marcel's right-hand man. That's step one in his plan for taking over New Orleans. How does Klaus do that? By creating a situation that caused Marcel to go full-on Montresor on his current right hand man Thierry when Thierry broke one of his rules. 
Vampires don't kill other vampires.  We all know by now that Marcel loves his rules. But all's fair in love and war, right?
Klaus and Rebekah, thanks to two un-vervained vampires, created a situation where Thierry would be forced to choose between his loyalty to Marcel or his love for a witch. Thierry chose love, just like Klaus knew he would, which gave Team Elijah the chance to make a move.
One way or another, Klaus intended to get into Marcel's inner circle. And while Marcel will never trust Klaus - not fully, because he knows Klaus - Marcel likes being alive. Klaus called an audible and took the opportunity to kill Katie just before Katie killed Marcel and that helped to cement his place next to Marcel. 
Sending Cami to Marcel with only the memory of a perfect party instead of the confrontation she witnessed probably didn't hurt Klaus' cause either.
I like Cami and I'm liking that this love triangle is shaping up to be a much more adult one than a certain other love triangle also involving two vampires and a human once did. Cami brings out the humanity in both men; in Marcel because he likes to see the world the way the humans do and in Klaus because deep down, he's broken and searching for a connection.
He has money. He has power. The thing he's missing is love. 
It will be interesting to see what happens when Cami figures out that the men she's sharing deep, emotional gazes with are really vampires locked in an epic battle for their city. A battle which centers around a certain teenaged witch.
Step two in Klaus' long con is to obtain Davina.
Of course Klaus wants Davina for himself and of course that revelation comes just after we watch him cozy up to Cami. Soften our hearts to the man just to harden them again posthaste! He doesn't care about his family. He just wants all the power for himself.
But after witnessing Davina's power, is there really any question that he would want that? Given everything we know about Klaus, no, not really. More than he has a thing for blondes, or even for his family, Klaus has a thing for power. 
Something tells me that finding out Davina is the reason Marcel won't hand over Elijah will only make Klaus work harder to find her. And Klaus will find out. He always does, doesn't he?
What did you think of "Tangled Up In Blue?" Did you like the way their plan came together? What do you think about the love triangle shaping up between Cami, Marcel, and Klaus?
Miranda Wicker was a Staff Writer for TV Fanatic. She retired in 2017. Follow her on Twitter.