Arrow Scoop: Susanna Thompson on Flashbacks, A Lifted Burden, "Twists and Turns" Ahead
Jim Halterman at . Comments
It's a day of reckoning for Moira Queen.
It's no irony that Arrow Season 2 Episode 7 is entitled "State v. Queen," as the matriarch is on trial for her illegal doings on Arrow Season 1.
And while her son, Oliver, has a handy way of helping out those in need in situations where he can use his bow and arrow, this could be one situation in which he's powerless.
As Moira, Susanna Thompson has played the character with much grace and poise, even in these dark days. In this exclusive Q&A, the actress gave me some insight into the mind of her character, what we can expect this week when Count Vertigo (Seth Gabel) makes a return visit and, assuming she gets out of prison, what her first point of action could be...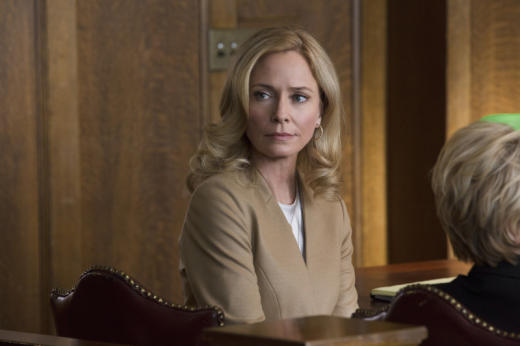 TV Fanatic: Moira has seemed so at peace with the decisions she's made. Is that true in her heart or is that more of a front than she's let on?
Susanna Thompson: I think that to a great extent there is a liberating quality about coming forward in the end of the season one and attempting in a very big, large way to take responsibility and to say 'I don't cross this line anymore' and now, while she's in prison, she can be more present with herself, with her family.
She still has her daughter and her son and I think being so isolated from the world as she knew it makes those moments with her children even more heightened and even more pleasurable. Marc [Guggenheim, Exec Producer] and I were chatting about this but anyone coming forward and saying 'I'm going to be honest, I'm going to stop the lies,' has to also be aware that along the way there were many skeletons in the closet and at what point do you share all of them or do they get revealed or do they ever.
A great burden has been lifted but she still is impacted by the reality of what actually did happen and that holds its own gravity and its own weight and its own responsibility so I do believe there's still a tremendous amount of guilt and that she's subjected her family to her journey basically.
TVF: We saw this a lot in season one where Moira knew a lot more than we realized that she knew. Do you think she's still in that position?
ST: It's a great question and I asked it all last season. I have a feeling, because I asked the question, I weave it into the pattern of who Moira is. Whether the writers weave it in or not I'm not sure. I do believe in many ways that women are very intuitive. That women know more then men give them credit for. I'm sorry to say that to a man but I do believe that women really do have bigger fields of intuition then men. So I naturally build that into female characters.
I think it would be juicy if that were true. You know, at the end of the pilot, I always go back to the pilot, she was much more than I ever thought she was. So I like that she is more resourceful than maybe I even think she is. I do think she does have a pulse on her life regardless of whether she's in prison or not and while she is here I think she does have resources. They may not be revealed to us as an audience but I certainly build them into this billionaire woman.
TVF: In the last episode, we saw that Moira brought Roy to prison so she could talk to him a little bit and she was instrumental about getting them back together, Thea and Roy.
ST: Isn't that sweet? Isn't it interesting though when she's in the middle of her whole life she has so many balls that she's juggling. Here she's cut off and everything can be kind of spotlighted just for what it is. So her daughter comes to visit, she's expecting a connection and the daughter's not quite there, and she notices it immediately. There are no distractions so she can pick up on it even more. Her maternal instincts are actually given more room to cultivate actually because she did live in the bigger society world and now it's much smaller and much more intimate when she comes one on one with her children.
So to pick up on her daughter's energy here is much easier than say in her home when she was juggling Walter at Queen Consolidated and Oliver being found and all these different secrets that she was trying to hide. Those are not there right now. It's all been stripped away.  I think it's an easier arena in which to pick up the tiniest little nuances and vibrations. I think now she's also trying to be the mother that she maybe couldn't be or didn't have experience to be.
TVF: We didn't get a big scene with them but what do you think her impressions are of Roy?
ST: I believe she's a great judge of character and I think she see's her daughter's happiness in a way that she's never seen it before. So wanting to know who's helping create this is a powerful need of hers and then in meeting him and watching it unfold in front of her when she's trying to create and give back to the two of them. I think it says it all really.
He's a young man that is really thoughtful outside of himself. I think she sees that. She certainly sees it through Thea. I mean, even at the end of the last episode in season one, the fact that she was so catapulted out of the Queen mansion to go find this young man was enough to say, Who is this young man?
TVF: Assuming Moira does eventually get out of prison, what's the first thing on her list? Is it getting back to normalcy or does she have some scores she's going to want to settle?
ST: I don't think life could ever go back again. I don't know what we're going to find. I mean, certainly [in this week's episode] we're going into the trial and what happens in this trial, regardless of what happens in her life, it's never going to be the same and it is going to take unexpected twists and turns. Absolutely.
TVF: Count Vertigo is back this week and I know that takes a little bit of an impact on your trial when your lawyer is taken out…
ST: Well, yes. In many ways Moira's fate, in many ways, is in Laurel's lap or hands. She's impacts Moira's fate to a great extent.
TVF: What do you think Moira's future is at Queen Consolidator now that Isabel (Summer Glau) has taken the reigns?
ST: A good question, Jim, because I've always felt that Moira was about holding onto family at all costs and Queen Consolidated is an extension of that. It is their legacy and I would suspect that, yes, and in the very first episode of season two she warns Oliver about Isabel. She also guides him in knowing who to consult and how to hold onto Queen Consolidated. So I do think that it's very important that it stay within the family. I do believe she knows more about Isabel than she's letting on to Oliver.
TVF: Which should make things more interesting now that Oliver and Isabel have slept together.  
ST: Exactly. Right? I mean, this is what I mean in terms of one can keep sharing the truth and stepping into more and more braver places in one's life but then circumstance can bring you up against perhaps another skeleton that you'd never thought you were going to have to look at again. I do suspect that something around Isabel is another skeleton. She clearly didn't come out and say anything to Oliver about it but she does warn him about her. So what was that warning about?
TVF: Do we have more flashbacks coming up?
ST: Oh, gosh yes. We've already seen Island flashbacks but yes, there will be flashbacks in probably most of the character's lives. I mean, certainly we'll see some flashbacks with the Lances and with Moira.
Arrow Season 2 airs Wednesdays at 8 p.m. on The CW. 
Jim Halterman is the West Coast Editor of TV Fanatic and the owner of JimHalterman.com. Follow him on Twitter.