Reunion had more than one meaning on Beauty and the Beast Season 2 Episode 5, as not only did Catherine have her 10-year high school reunion to attend, but Vincent found himself faced with a reunion that was not only unpleasant... but nearly impossible for him to recall.
When a beast showed up in Cat's bedroom only to be thwarted by Cat and her high school friend, he later made it seem as if he was on the prowl for just any old beast. That couldn't be further from the truth.
He had found exactly who he wanted in Catherine and his only mistake was taking too long to kill her.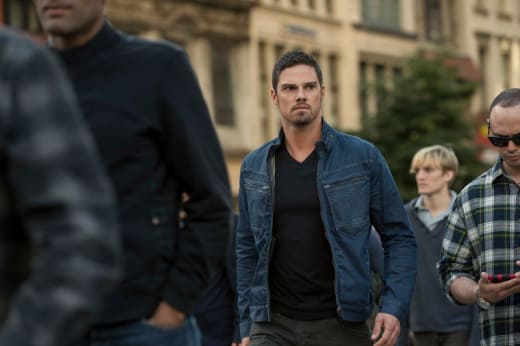 What could have been written as a stand-alone, throwaway episode instead gave us insight into several characters, including Vincent, Catherine and Gabe. It's not easy to tackle topics like high school reunions with the introduction of a lot of new characters with whom viewers aren't already familiar, but the way this worked out the side characters were barely a distraction and gave us a nice shot into Cat's past.
Who would have guessed she was a track star, or would feel uncomfortable as one of the high school mean girls noted condescendingly that she didn't have a plus one with her? The Cat we have come to know seems so much more confident. It's amazing what 10 years can do for someone.
In a time span just longer than that, Vincent had lost his life to the Muirfield experiments and J.T. lost two friends - or so he thought - to the war in Afghanistan. He was able to help one, but it sure seemed that Zach was a lost cause long before he headed to war.
It's kind of frightening to think that Muirfield didn't do any psychological testing on the participants of their beast program that would have caught the type of vindictive behavior Zach exhibited. He was obviously feeling those throes of jealousy and anger toward Vincent before the experiments, and they only enhanced his anger.
Poor J.T. His skepticism about all things this season has largely been overlooked no matter what topic he has been dealing with, and as he saw the red flags flying all around Zach. Even what little trust he's been able to get back with Vincent didn't prove enough for Vincent to take him at his word to cut the evening short and walk away. 
The constant probing about Gabriella was a trigger for J.T., but Vincent was just happy to have a memory. Little did he know it would be a bad one. He had a short-term affair with a girl Zach broke up with before he went into the service, and Zach remembered it all those years and wanted to kill Cat to call it even.
Talk about crazy!
It did make Vincent think that without Cat's love he might have gone off the rails himself, and we were treated to a nice, romantic moment after the beast fight and killing. It's always a nice way to end a killing, isn't it? With a kiss. Despite his lack of memories, they're practically back where they were last year with regard to their relationship, because it took them so long to find their groove in the first place.
I'm happy with where they are and where they're heading.
The worst part of it was the very short-term usage of hunky Blair Redford. The poor guy can't catch a break. He was canceled from The Lying Game, sent to war on Switched at Birth and his return from war was no picnic on Beauty and the Beast. Let's find him a longer-term gig!
In other news, Gabe was going out of his way, per usual, to assist Cat. This time he was helping her find her birth father, but running into all kinds of red tape. When "Agent" Reynolds dropped by to ask how Cat was after the beast attack (which should have had some bells ringing), Gabe even asked him for his help. 
Later, after Tess got Gabe to admit he had feelings for Cat in a rather adorable way, Gabe and Cat discovered a familiar face in the background of her high school graduation photo - Agent Reynolds. Cat had discovered her birth father.
That didn't take too long. Right now Vincent talks to Condor through a voice disguise. He's never seen his face as far as we know. Cat's not going to let her news sit. How long until the three all meet up? If we're to take a guess using these Beauty and the Beast spoilers, we might have a stressful holiday season wondering what will happen in the New Year. 
Carissa Pavlica is the managing editor and a staff writer for TV Fanatic. She's a member of the Broadcast Television Journalists Association (BTJA), enjoys mentoring writers, wine, and passionately discussing the nuances of television. Follow her on Twitter and email her here at TV Fanatic.