Throughout the years, the doctors' love lives have played an unforgettable role on Grey's Anatomy.
And we can add Grey's Anatomy Season 10 Episode 8 to the books as yet another installment that featured major relationship drama as matters of the heart took stage front and center.
Let's break it down by couple, shall we?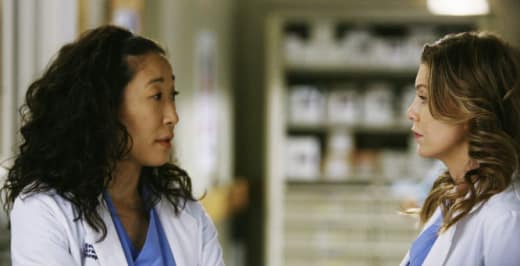 Mapril fans were probably excited because Matthew finally made an appearance. I was beginning to wonder if we'd ever see him again. I guess it is true absence does makes the heart grow fonder because Matthew was suddenly not too keen anymore on the whole "no sex before marriage" thing.
Ultimately, the two decided to wait. Japril fans, are you still out there and holding out? I, for one, find April much more tolerable when she's with Matthew. So, I actually want the wedding to happen.
While Mapril still appears to be on their way to the chapel, Calzona's separation seems almost permanent already. It's only a matter of time until Arizona's relationship with Leah comes to light. How is Callie going to handle the news? I'm betting not well at all.
Bring on the drama, though.
Side note: I am really digging Arizona and April's friendship. I'm glad that their drunken night in the supply closet wasn't a one-time thing. Then again, I'm always down for girl talk and it's not like we've seen much with Cristina and Meredith's ongoing strife. More on that soon, though.
Elsewhere, with Ben back, Bailey wasn't handling it so well. On Grey's Anatomy Season 10 Episode 7, she was disappointed upon hearing that Ben had already made up his mind about quitting school to be with his family. Honestly, I get why she is frustrated, but she couldn't she be a little happier her husband is back?
I am really worried about Bailey. Something tells me that her OCD-like behavior, blurred vision, and lost consciousness are just the beginning of a very exhausted and broken Bailey. What's wrong with her?!?
Aside from all of the relationship drama, Meredith and Cristina's strife was far from over. I thought it was a little weird that Alex was only now finding out that the besties were on the outs. Their fights have become even more intense and awkward.
Alex was right to call out Meredith for being kind of petty and trying to prove Cristina wrong in calling her a lousy doctor. Do you think that Meredith was wrong not to let Cristina use her fancy new toy? At first, I did think Meredith was being irrational; however, she was in the middle of her research. Then again, Cristina truthfully wanted to try to help a patient.
I'm torn in who was in the right or even the wrong here.
One thing's for certain, though: I thought it was entirely predictable that Cristina and Shane would be caught red-handed using the 3D printer. It's now clear more than ever that Cristina and Mer's fight is far from over.
Other thoughts:
I loved Callie nearly interrogating Emma to find out more for Owen. I'm totally on board with Emma and Owen and thought she was smart to not take the job at Grey Sloan Memorial.
I liked the pairings for the medical cases this week. Derek advising Jackson to step back and let other doctors tend to his patients was just so McDreamy. Then, it was interesting seeing Alex and Mer work together because it feels like it's been such a long time. Lastly, I actually found Sharky, aka Shane, and Cristina to be dynamic once again. They're kind of ruthless, aren't they?
Honestly, Webber's stories were boring me a bit, too. I'm glad that he's finally on his feet again. 
Don't forget to return next week to chime in on our Grey's Anatomy Round Table.
All in all, I thought this was an extremely busy installment.
There was way too much going on and it felt rushed at times. It definitely wasn't my favorite. Moving along, I'm mostly looking forward to finding out what's up with Bailey and the after effects of Cristina's choice to betray Meredith.