After the tremendous loss on Masters of Sex Season 1 Episode 5, Libby and William took a trip down to Miami this week.
Yes, on Masters of Sex Season 1 Episode 6, they made an attempt to get their minds off of the miscarriage.
Unsurprisingly, though, Bill had a hard time leaving his work behind and Libby certainly took notice.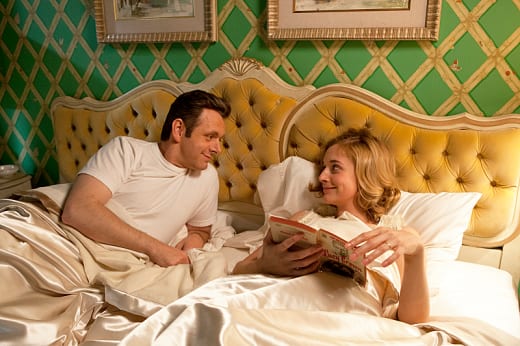 Bill was more fascinated by the old couple getting it on next door than by his own beautiful wife. He was timing them and staring at the clock while kissing Libby. Libby has been through a horrible time recently and it wouldn't hurt for her husband to pay her some attention. 
The problem that we're all aware of is that Bill keeps Libby in this other protective, "wife only" sort of category. He sees her less as sexual and more as a good old-fashioned housewife, who at one point he hoped would be the mother of his children.
Then you see his reaction to Virginia and it's a whole other ball game.
In Masters of Sex Season 1 Episode 4, he was listening with earphones to George's description of having sex with Virginia while staring at her. Did anyone else catch the way he perked up when Virginia said she was already in his office? He asked if she was sitting in his chair and you could totally tell that the thought of it somehow thrilled him.
Now that Virginia just submitted herself to the study to test the theory of whether or not a woman can have an orgasm just from having her breast touched, she and Bill are taking things from purely professional to something murkier. By the way, the writers of 50 Shades of Grey and many similar books would be happy to answer that question.
I can only imagine how Bill reacts to that move since his ego seemed somewhat impacted when Virginia tested Freud's theory and proved that women can have just as strong, possibly even stronger, orgasms without a man's help. 
We should plan a session for tomorrow night. Get some data on your hypothesis, that men are completely unnecessary.

William
Hats off to Allison Janney this week. I was excited when I saw she was a part of the cast and we really haven't seen much of her until now.
It was a little heartbreaking to see this woman, who obviously gets no affection from her closeted husband and then gets rejected from a sex study because she's never experienced an orgasm.
While the setup of her running into the also down-and-out Dr. Langham at the movies could be deemed a little obvious, it was still entertaining to watch. He couldn't perform because of pressure. She's never gotten off. They're a random and unlikely pair but after a steamy movie and a romp in the car, they're probably both singing a different tune!
So what do you think will happen now that Virginia and Bill have crossed the line? Was Margaret and Austin's encounter a one time thing?